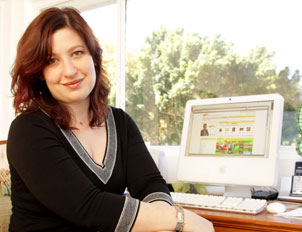 Anne Groden - buddingcollector
1. Your happiest eBay moment?
Every time I win something is my new happiest moment!
It is always a thrill, especially if you win something you've had to fight for. Although, when you get something easily that is more of a bargain, it also feels great!
2. What do you normally buy/sell?
I am more of a buyer than a seller - I've just renovated my flat and needed all new furniture etc and probably furnished it with about 80% of items bought on eBay.
I have sold eight items and have more planned, which will be vintage clothing, accessories, and some ornaments.
3. How did you discover eBay?
I've known about eBay for ages through advertising and friends but resisted it knowing I'd find a lot of things I didn't know I needed but then had to have! Alas, it's been great sourcing items for the flat and gifts for friends that are not readily available in the shops.
4. Most interesting item bought/sold ?
A lovely Georg Jensen gilt collector's spoon from 1971
5. Your preferred way to pay/be paid?
Paypal as it is secure and immediate.
6. What's the main attraction to using PayPal?
Convenient, instant, and hassle free
7. Best eBay bargain?
There have been quite a few, but I'd have to say my Persian rugs (I bought 3) which were about a quarter of the retail price including transport - they are great, genuine hand knotted pieces and were real bargains.
8. What do you like about buying/selling on eBay?
It is so convenient to sit at home on the computer & it's the thrill of the hunt!
9. If you could buy/sell anything on eBay what would it be?
Definitely furniture and decorative arts; also presents for children - but I love those rare antique finds that pop up from all over the country when you search for them.
10. Was there ever one that got away? (an item you wanted to buy but missed out on?)
You can't always win everything you like if someone is prepared to pay more for it but that's the luck of the draw. I missed out on two exquisite gilded porcelain candelabras but they had literally hundreds of people watching them and sold for above retail so I had to let them go - lucky vendor!