Checkout Preference
When you use Checkout, a Pay Now button appears to your winning buyer(s) after the listing ends. The button is accessible to buyers from various places, such as ended item pages, the Items I've Won view of My eBay, and email invoices.
This button encourages buyers to begin the payment process and helps you get paid faster.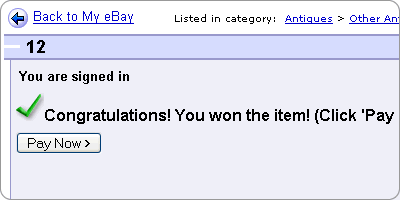 After buyers click Pay Now, they will be asked to specify their postal address, select any items for combined payment, and send you payment through any of the payment methods you offer (PayPal, personal check, money order, etc.).
Click the "Use Checkout" check box to always display the Pay Now button to buyers when your listings end.
Note: The Pay Now button is always displayed in closed listings where PayPal is offered.