The Car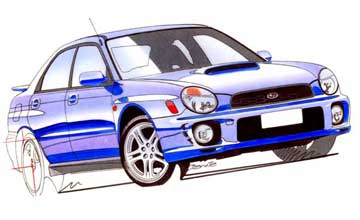 Distinctive headlights are clear-lens multi-reflector halogen type with integrated indicators.
Although the basic size and shape is retained, the new WRX is 40mm wider than its predecessor and the track is 20mm wider on the sedan - hence the flared guards.
Despite a weight saving aluminium bonnet, the WRX weighs in 120kg heavier than its predecessor.
A hatch variant offers more flexibility. A ski-port, which doubles as an armrest, replaces the old car's split-fold rear seat, reducing total luggage capacity.
The driver's seat has height adjustment with 50mm of movement, up 20mm from the old model.
New design analogue-style instruments have silver-surround finish.
AM/FM radio with CD and cassette player standard. CD player is in-dash six-stack type.
Stalk-mounted cruise control is now standard for the first time on a turboed Subaru.
Metallic finish centre console and side air vents complemented by aluminium pedals.
Standard air-conditioning is semi-climate control. The "semi" means temperature can be dial-adjusted in five degree increments, rather than by singular degrees.
Alloy wheels are 17-inch tandem 10-spoke design, up one inch from the old car. Standard tyre size is 215/45R17 front and rear.
Ski-port enables longer items to be carried, although old model had split-fold rear seats.
Weight is significantly up by 120kg. The positive side of that is an improvement in body rigidity and safety.
At the core of the Impreza's monocoque construction are ring-shaped reinforcement frames, which provide greater rigidity, minimise distortion and help energy dispersal in an accident.
All Imprezas are equipped with ABS anti-lock brakes and have front seatbelt pre-tensioners and load limiters.
Lap-sash seatbelts are standard for all passengers.
Dual airbags are standard up front.
Remote central locking is standard, integrated with hazard lights for visual recognition.
MacPherson struts are used for the front suspension, with a multi-link arrangement at the rear.
Five-speed manual is the only transmission choice following the abandonment of an automatic option.
Four-wheel ventilated disc brakes are standard.
WRX uses a power assisted rack and pinion steering system. The power assistance is engine speed sensitive, which means that as the engine speed increases, the amount of power assistance is reduced.