Subaru Impreza GX 5 door Hatch Apr 1993 to Nov 1996 Buying Guide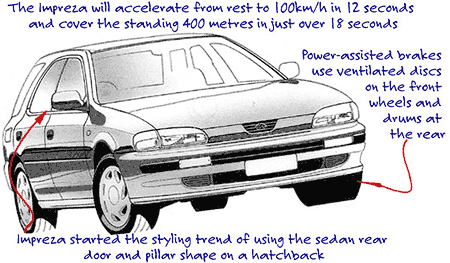 Who'd have thought the humble origins of the original Impreza would lead to true 1990s classic? Recession-savaged Subaru's decision to base the replacement of the long-toothed L-series (Leone) small car on the Liberty/Legacy platform may have been borne of economic need (they shared drivetrain, suspension and some auxiliaries), but it soon exploited the Impreza's four-wheel drive potential. Initially the Impreza was offered in three four-door guises (LX sedan, GX sedan and GX hatch), with the LX powered by a 66kW 1.6-litre 16-valve boxer four-cylinder engine and the others a 76kW 1.8. There were two gearbox choices (five-speed manual or four-speed auto), while 4WD was available on GX models. In early '94 the iconic, five-speed manual-only WRX arrived, offering a 155kW, turbocharged, 2.0 twin-cam engine and 4WD in both bodies. Later in '94 the Sportswagon hatch introduced a dual-range manual gearbox for rougher terrain requirements. Air-con and power steering were standard on all models, while a driver's side airbag, anti-lock brakes and cruise control were optional. Small changes to the grille, wheels, cabin trim, colour palette and features list marked the first Impreza facelift. The previous LX became the LXS special edition, the 'real' LX lost air-con and the GX gained cruise control. In late '95 the short-run WRX Rallye introduced the series' signature blue paintwork. In March '96 a 85kW 2.0-litre boxer engine was slotted underneath the Sportswagon and its limited-edition Gravel-X counterpart, while an 88kW version powered the sporty RX 4WD limited edition sedan. A small facelift followed from late '96, ahead of a more substantial makeover in September '97 that saw a totally new cabin. A thorough engine overhaul had to wait until the September '98 round-of-changes, seeing the model through to the controversially redesigned Mk2 model of late 2000.

Our Opinion


Our Opinion
We Like:
Styling, image, all-round abilities
We Don't Like:
Can be a little more expensive to buy and run
The Subaru Impreza was released onto the Australian market in April, 1993, with 10 models in the range, including front-wheel drive and four-wheel drive sedans and hatchbacks. The range was expanded in 1994 with the introduction of the Sportswagon and high performance Impreza WRX. The Impreza was based on a shortened version of the superseded Liberty floorpan and shares many of its bigger brother's mechanical components. Otherwise, the rest of the Impreza was new and the unusual styling made it stand apart from its rivals. In fact, Subaru started a styling trend with the Impreza hatch which was followed by other Japanese and South Korean makers.
The hatchback looks more station wagon than hatch. The rear-end styling is a matter of taste but the extra space make it very practical with a great deal more luggage space than a conventional hatch. The GX hatchback was more expensive than some of its rivals but came with a comprehensive list of standard equipment - air- conditioning, power steering, central locking, power mirrors, power windows with one-touch up and down for the driver and a four-speaker radio/cassette. Four-channel anti-lock brakes, which also upgraded the rear drum brakes to discs, were an option.
The Impreza had an update in 1995 with minor front and interior trim changes while cruise control was added as standard equipment. In a bid to keep the Impreza's new price competitive, cost cutting saw air-conditioning removed from the standard equipment list and made an extra cost option in July, 1995. The 1.8-litre, all aluminium engine has a power output of 76kW at 5600rpm with 147Nm of torque at 4400rpm. The compact, flat four engine layout allows the bonnet and scuttle to be lower than normal which improves forward vision and makes parking easier. The driving position is comfortable with good side support from the cloth-trimmed seats and a rest for the left foot. The instruments, which include a tachometer, are large and easy to read. The high roof provides good headroom and the large glass area makes the cabin feel spacious and open. The Impreza's suspension may not be sporty but it does ride well, helped by the standard Michelin tyres, with moderate understeer and body roll. The disc/drum brakes can easily cope with the Impreza's performance but the anti-lock option with rear discs has better performance on slippery roads.
Subaru has a good record of building good quality, long lasting, reliable cars. The Impreza is more expensive than its rivals but is better equipped. It stands out from the crowd.

Back to top


Buy with Confidence


Buy with Confidence
Before making your purchase, make sure you know exactly what you're buying, research your seller, and understand how eBay Australia and PayPal protect you.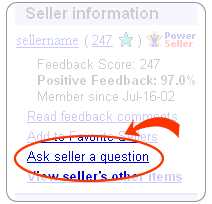 Know your purchase
Carefully read the details in item listings.
Check the car's value and determine how much you want to pay. Use the Completed Listings search option to get an idea of how much a similar model has sold for recently.

Check if the car is covered by eBay Australia's Vehicle Purchase Protection.

Ask for a test drive or consider getting a History Check or a Vehicle Inspection if you can't inspect the car yourself.

Read the description carefully. If you want more information, ask by clicking the "Ask seller a question" link under the seller's profile.

Always make sure to complete your transaction on eBay Australia (with a bid, Buy It Now, or Best Offer). Transactions conducted outside of eBay Australia are not covered by eBay Australia protection programs. Classified Ads are not covered by Vehicle Purchase Protection.
Know your seller
Research your seller so you feel positive and secure about every transaction.
What is the seller's Feedback rating? How many transactions have they completed? What percentage of positive responses do they have?

Cars listed by Sellers with a feedback rating less than 0 are not covered by a Vehicle Purchase Protection program.

Some car dealers may have a low feedback rating because classified ads do not generate ads. But they will have a icon next to their user name.

Depending on the car, some car dealers provide a limited warranty. Do they offer a warranty on the car you are buying? What are the terms and conditions?
Buyer protection
In the unlikely event that a problem arises during your transaction, you may be covered by the Vehicle Purchase Protection program
eBay Australia Security & Resolution Center: Visit the Security & Resolution Center to learn how to protect your account and use eBay Australia's quick and efficient resolution tools.

Back to top


Legal Disclaimer


Legal Disclaimer
Buying Guides are intended merely as a guide or review for members when considering what products or services they may be interested in bidding on or purchasing. eBay does not make, and nothing in these Buying Guides is intended to constitute, any warranties, guarantees, representations or assurances about the accuracy of the information or content contained in these Buying Guides. Furthermore, eBay does not make, and nothing in these Buying Guides is intended to constitute, any warranties, guarantees, representations or assurances about the nature or performance of the products or services appearing in the Buying Guides. eBay is not affiliated with nor does it endorse the use of any particular product or service.
The content of this guide is licensed from GoAuto © 2006

Back to top


---

| | |
| --- | --- |
| | Content Provided By |
| | and GoAuto |