eBay Australia's Stamps Buying Guide


Stamp collecting has been around for as long as stamps have been printed, and is a fun and enduring hobby. It's easy to get started by simply keeping your collection focused and staying involved in the stamp collecting world. You'll find a large selection of rare and collectable Australian stamps, World stamps and topical stamps available on eBay Australia. Start shopping for stamps now on eBay Australia!

Choose Which Stamps to Collect


Choose Which Stamps to Collect
With countless types of stamps available from Australia and around the world, you have an enormous selection from which to choose. These tips should help you get started on the stamps that are right for you.
Choose recent stamps
It's easier to get started with stamp collecting if you choose recent stamps. They are less expensive, more readily available, and can generally be found in good quality.
Focus on a particular type of stamp
Some collectors begin by collecting a specific kind of stamp, from stamps of planes or Christmas stamps, to stamps of birds or kangaroos. eBay Australia also has a range of topical stamps which include stamps of nature, people and sports, and transport and space.
Other collectors may choose to collect stamps from a specific country, region or state. Instead of stamps from Australia, you may choose to collect stamps from the US, UK, Asia, Africa, Western Europe, Eastern Europe, Scandinavia and more. If you want to focus your stamp collection on a particular Australian state, you'll find a variety of stamps from New South Wales, Queensland, Victoria, South Australia, Western Australia and Tasmania.
Some decide to only collect stamps from a particular time. For example you may only wish to collect pre-decimal Australian stamps from 1901 to 1965. Altenatively you may prefer to collect decimal Australian stamps.
Decide between cancelled or mint stamps
Decide if you want to collect cancelled or mint stamps. Mint stamps are stamps that are pristine and have not been used. They generally fetch more money at auction, but cancelled stamps (stamps that have been used and stamped by the post office) have served their purpose, which some collectors prefer.
Buy a complete set
When buying a set of stamps, it's best to buy a complete set. If one particular stamp is hard to find, you risk having to buy a complete set at a later date to get that one rare stamp.
Whichever stamps you decide to collect, enjoy them - stamp collecting should be for fun, rather than for profit.


Back to top


Gather Stamp Collecting Supplies


Gather Stamp Collecting Supplies
Stamp albums, hinges, mounts, and other stamp supplies help you properly handle and store your stamps.
Stamp albums: Quality stamp albums allow you to protect, organise, and display your stamps. Good-quality albums should have thick pages and acid-free paper.

Hinges: Stamp hinges are small rectangular pieces of paper used to affix stamps to an album. Rather than directly putting the stamp on the page, the hinge is coated with a substance that makes it easier to remove.

Mounts: You slide stamps into mounts , thin sleeves typically reserved for more expensive stamps. Instead of disturbing the original gum of the stamp by affixing it to a hinge, the whole mount is put on the page, and the stamps are placed in the mount.

Magnifying lens: Magnifying lens can help you examine the quality and detail of your stamps.

Stamp publications: The value of stamps doesn't change very quickly. Browse through stamp publications and stamp catalogues to find out what kind of stamps are in circulation and an estimate of their current value.

Tongs: Avoid touching your stamps with your fingers. Finger oils can actually damage the stamp over time. Using tongs will ensure that your stamp will stay oil-free.

Back to top


Learn Stamp Terms and Abbreviations


Learn Stamp Terms and Abbreviations
There are many terms specific to stamp-collecting (also called "philatelic") circles. Stamp collecting enthusiasts would be very familiar with these terms. Common philatelic terms include:
Crease: A fold in the stamp. Folds can be rated from faint to heavy and can sometimes be pressed or ironed out.

Fading: Lightened ink due to natural causes.

Staining: Discolouration of a stamp's colour.

Imperforate stamp: Stamps originally sold without perforations.

Reperforated stamps: Addition of perforations to defraud collectors.

Trimmed perforations: The stamp's perforations have been trimmed since its issue.

Natural translucency: This is a condition often confused with a thin spot. It is usually ignored.

Pinhole: A tiny hole that light can be seen through.

Original gum: A stamp with gum that is in the same condition as it was when applied by the manufacturer.

Previously hinged: The gum on the stamp is original, but it has disturbances that have happened since printing. This could either be due to natural causes or indicate a sign of tampering.

Redistributed original gum: The original gum has been redistributed across the back of the stamp so as to hide any gum imperfections.

Regummed: New gum has been added to the stamp.

Repair: Any attempt to cover previous damage.

Scrape: Fibre disturbance caused by a surface abrasion.
Stamp sellers on eBay Australia commonly use abbreviations to describe the condition of a stamp. Common abbreviations you may come across while shopping for stamps on eBay Australia include:

Back to top


Find Stamps on eBay Australia


Find Stamps on eBay Australia
Once you know what type of stamps you want to collect, go to the Stamps portal and start searching for item listings on eBay Australia.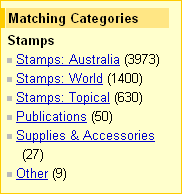 Categories: The Categories list on the left side of each page will help you narrow down your listings by item type. You'll find links for Stamps: Australia, Stamps: World, Stamps: Topical and more. As you dig deeper into the site you'll also be able to further narrow down your choice.

Keyword search: Search eBay Australia listing titles for specific words. For example, if you want to find stamps of kookaburras, type "kookaburra" (without quotation marks) into the Search box. Click "Search title and description" to expand your results. Visit eBay Australia's Search Tips page for more tips on searching with keywords.
If you can't find exactly what you want, try shopping eBay Stores, tell the eBay Australia Community what you want by creating a post on Want It Now, or save a search on My eBay and eBay Australia will email you when a match becomes available.

Back to top


Buy Stamps With Confidence


Buy Stamps With Confidence
Before making your purchase, make sure you know exactly what you're buying, research your seller, and understand how eBay Australia and PayPal protect you.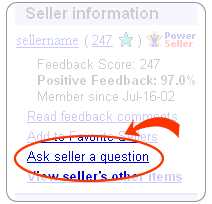 Know your purchase
Carefully read the details in item listings.
Figure delivery costs into your final price. If you spend a lot of money, make sure the seller will insure the item when it ships.

If you want more information, ask by clicking the "Ask seller a question" link under the seller's profile.

Always make sure to complete your transaction on eBay Australia (with a bid, Buy It Now, or Best Offer). Transactions conducted outside of eBay Australia are not covered by eBay Australia protection programs.

Never pay for your eBay Australia item using instant cash wire transfer services through Western Union or MoneyGram. These payment methods are unsafe when paying someone you do not know.
Know your seller
Research your seller so you feel positive and secure about every transaction.
What is the seller's Feedback rating? How many transactions have they completed? What percentage of positive responses do they have?

What do buyers say in their Feedback? Did the seller receive praise?

Most top eBay Australia sellers operate like retail stores and have return policies. Do they offer a money-back guarantee? What are the terms and conditions?
Buyer protection
In the unlikely event that a problem arises during your transaction, eBay Australia and PayPal are there for you.
Pay safely with PayPal: PayPal enables you to pay without the seller ever seeing your bank account or credit card numbers. In fact, PayPal protects buyers 100% against unauthorised payments from their accounts. Plus, with PayPal Buyer Protection, your purchase can be covered up to $1,500.

eBay Australia Security & Resolution Centre: Visit the Security & Resolution Centre to learn how to protect your account and use eBay Australia's quick and efficient resolution tools.

Back to top


Need More Help?


Need More Help?
Visit our help pages or start a thread on one of our Community Discussion Boards - If you have a quick question that needs answering, try posting it on our community Answer Centre - there's bound to be a seasoned eBay Australia veteran with just the information you're looking for!

Back to top


Legal Disclaimer


Legal Disclaimer
Buying Guides are intended merely as a guide or review for members when considering what products or services they may be interested in bidding on or purchasing. eBay does not make, and nothing in these Buying Guides is intended to constitute, any warranties, guarantees, representations or assurances about the accuracy of the information or content contained in these Buying Guides. Furthermore, eBay does not make, and nothing in these Buying Guides is intended to constitute, any warranties, guarantees, representations or assurances about the nature or performance of the products or services appearing in the Buying Guides. Content, trademarks and brands referred to and contained in the third-party links provided are the property of their respective owners, and eBay has no control over and accepts no responsibility for their content. eBay is not affiliated with nor does it endorse the use of any particular product or service.

Back to top


---