eBay Australia's Radio Control Vehicle Buying Guide


What's Right for Me?


What's Right for Me?
Toy or Hobby?
eBay Australia has both toy and hobby RC vehicles . While both are great fun, but there is a significant difference between the two. The toy products generally cost between $20 and $100 and are very easy to get running out of the box. Most of the parts are plastic and replacement parts and upgrades are not available. With hobby RC vehicles, you get better performance and durability. The models are manufactured to scale with more sophisticated engineering and parts can also be replaced and upgraded.
Kit or RTR/RTF?
Hobby RC vehicles are sold either as kits or RTR or RTF ("ready to run" for cars and trucks or "ready to fly" for aircraft). A kit requires assembly with the help of an instruction manual. RTR or RTF vehicles are ready to go right out of the box. Which is right for you? While kits are essentially designed for hobbyists with technical aptitude and interest, RTR/RTF models are ideal for kids and new enthusiasts.
Cars and Trucks
Most new RC hobbyists get started with a new RTR. You can get started with a very basic car or truck for between $80 to $100. If you are a more serious hobbyist, you should expect to spend around $300 to $500 for a more advanced model. eBay Australia sellers carry all the top brands, including Traxxas, HPI, Tamiya, OFNA, Team Associated, Kyosho, LOSI and others.
On or Off-Road?
Off-road buggies and monster trucks are both popular starter cars. With big knobby tires, these little trucks can handle the roughest terrains and the steepest climbs and some of them come with 4-wheel drive. On-road cars are faster and more streamlined, and are designed to run on a track or paved surface. The fastest models travel at over 80km/h! Most of these are about 45cm long and some come with 4-wheel drive. Trucks and buggies will run between 16 and 40km/h.
By Air and Sea
Ready for take-off? eBay Australia has the broadest selection of airplanes, helicopters as well as boats. We even have military RCs if you're into military gear. With model airplanes, you can get started with a mini or toy plane for less than $100. If you're a more serious hobbyist, you should plan to spend about $300 for a model plane.
Electric or Gas?
If you're just getting started, you might want to buy an electric RC vehicle that runs on a rechargeable battery (Nickel Cadmium or Nickel Metal Hydride). There are hundreds of battery operated cars, airplanes, helicopters, and boats on eBay Australia.
More serious enthusiasts might invest in a gas-powered RC, or more specifically, on "nitro" which is a special RC fuel that is a mixture of nitromethane and synthetic oil. Find popular gas powered cars, airplanes, helicopters, and boats on eBay Australia.


Back to top


Radios


Radios
The "radio" is what you use to control your RC vehicle. It's typically powered with rechargeable batteries. If you're just getting started with an RTR or RTF set-up, the radio is included. With a kit or ARTR (almost-ready-to-run) model, you'll also need a radio system (not included) to drive or fly your RC vehicle. The radio system has three parts: the transmitter, receiver and the servo. The transmitter is what you hold in your hands and use to send signals to the receiver which is built into the vehicle. The receiver then sends signals to the servo which controls the steering and acceleration.

Back to top


Find Radio Control Vehicles on eBay Australia


Find Radio Control Vehicles on eBay Australia
Now that you know a little bit more about the types of RC vehicles out there on the market, go to the Toys & Hobbies portal on eBay Australia, click on Radio Control and get ready to start searching for the perfect RC vehicle for you!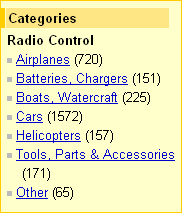 Keyword Search: Let eBay Australia find items for you by entering the keywords you want to find into the search box. For example, if you want a Tamiya RC car, type "Tamiya car" into the search box. Put a check next to "Search title and description" to expand your search. Visit eBay Australia's Search Tips page for more advice about searching with keywords.
If you can't find exactly what you want, try shopping eBay Stores, tell the eBay Australia Community what you want by creating a post on Want It Now, or save a search on My eBay and eBay Australia will email you when a match becomes available.

Back to top


Buy with Confidence


Buy with Confidence
Before making your purchase, make sure you know exactly what you're buying, research your seller, and understand how eBay Australia and PayPal protect you.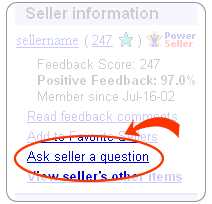 Know your purchase
Carefully read the details in item listings.
Figure delivery costs into your final price. If you spend a lot of money, make sure the seller will insure the item when it ships.

If you want more information, ask by clicking the "Ask seller a question" link under the seller's profile.

Always make sure to complete your transaction on eBay Australia (with a bid, Buy It Now, or Best Offer). Transactions conducted outside of eBay Australia are not covered by eBay Australia protection programs.

Never pay for your eBay Australia item using instant cash wire transfer services through Western Union or MoneyGram. These payment methods are unsafe when paying someone you do not know.
Know your seller
Research your seller so you feel positive and secure about every transaction.
What is the seller's Feedback rating? How many transactions have they completed? What percentage of positive responses do they have?

What do buyers say in their Feedback? Did the seller receive praise?

Most top eBay Australia sellers operate like retail stores and have return policies. Do they offer a money-back guarantee? What are the terms and conditions?
Buyer protection
In the unlikely event that a problem arises during your transaction, eBay Australia and PayPal are there for you.
Pay safely with PayPal: PayPal enables you to pay without the seller ever seeing your bank account or credit card numbers. In fact, PayPal protects buyers 100% against unauthorised payments from their accounts. Plus, with PayPal Buyer Protection, your purchase can be covered up to $1,500.
eBay Australia Security & Resolution Centre: Visit the Security & Resolution Centre to learn how to protect your account and use eBay Australia's quick and efficient resolution tools.

Back to top


Need More Help?


Need More Help?
Visit our help pages or start a thread on one of our Community Discussion Boards - If you have a quick question that needs answering, try posting it on our community Answer Centre - there's bound to be a seasoned eBay Australia veteran with just the information you're looking for!

Back to top


Legal Disclaimer


Legal Disclaimer
Buying Guides are intended merely as a guide or review for members when considering what products or services they may be interested in bidding on or purchasing. eBay does not make, and nothing in these Buying Guides is intended to constitute, any warranties, guarantees, representations or assurances about the accuracy of the information or content contained in these Buying Guides. Furthermore, eBay does not make, and nothing in these Buying Guides is intended to constitute, any warranties, guarantees, representations or assurances about the nature or performance of the products or services appearing in the Buying Guides. eBay is not affiliated with nor does it endorse the use of any particular product or service.

Back to top


---