eBay Australia's PDA and Handheld Buying Guide


Stay organised and in touch with a personal digital assistant (PDA), which is great for helping you to manage contacts, schedule appointments, and send email and instant messages. Get ready to pick the perfect PDA and get a hold of the handheld of your dreams on eBay Australia. Start shopping for PDAs and handhelds now on eBay Australia!

Set Your PDA Priorities


Set Your PDA Priorities
All the latest and greatest features sound great, but what do you really want to do with your PDA? Before you start clicking through item listings, determine what you need out of a handheld device.
Contacts and Calendaring
If you just want to keep a list of business/personal contacts and keep your schedule straight, you don't need a top-of-the-line PDA. An older Palm (operating system for PDAs distributed by palmOne) or Pocket PC (handheld computer which runs on Windows CE/Windows Mobile operating system) with limited memory and a monochrome screen will work just fine.
Email and Internet
Send and receive email, browse websites, and organise your calendar and contacts with a more advanced Palm or Pocket PC. Communicate with other devices away from the computer with Bluetooth, Wi-Fi, or an IrDa port (infrared). Make sure the PDAs you look at support the features you desire most. You will need to sign up for service before using email and Internet features.
Phone Calls and More
A handful of PDA/mobile phone combo devices, including the Palm Treo, O2 XDA, and RIM Blackberry let you make calls, surf the Internet, instant message, email, and handle basic contact and calendar management. You will need to sign up for mobile phone service before using mobile phone features and Internet service before using Internet features.*
* Notes on Service Fees: Mobile phone, data transfer (instant messaging and picture messaging), and Internet/email fees vary depending on your service provider, how much time you spend using a service, and the amount of data you send and receive each month. If you want mobile phone service, expect to pay a monthly mobile phone service fee as well as a monthly fee for Internet/email access.

Back to top


Choose an Operating System


Choose an Operating System
Deciding between a Palm OS device and Pocket PC was once the most critical decision a person had to make when buying a PDA. Now manufacturers offer comparable features and pricing for Palms and Pocket PCs. Base your decision on personal preference.

Palm
Palm devices run the Palm operating system and include software to help you keep track of contacts and appointments. Most come with third-party software to synchronise with your Outlook email, but you'll need additional third-party software to have it synchronise with other Microsoft Office applications.
Recent Palm devices boast as many additional features as their Pocket PC counterparts. The streamlined operating system doesn't take a lot of memory to run, and you can get them with monochrome or colour screens.
Palm devices you'll see include the Palm Tungsten, Palm M series, Palm V series and Palm Zire. If you want a PDA with a built-in mobile phone, look into the Palm Treo.

Pocket PC
Pocket PC handheld devices run a version of the Windows operating system. Older PDAs run Windows CE and newer devices run Windows Mobile. Pocket PCs come with Pocket PC versions of Microsoft Office applications including Pocket Word, Excel, PowerPoint, and Outlook, which integrate with your full desktop applications. They also come with Windows Media Player to play back audio and video files. If you want a PDA that immediately integrates with Microsoft Office applications, look into Pocket PCs such as the HP iPaq, O2 XDA, Dell Axim, Sharp PDAs and Toshiba PDAs.
If you'd rather run Linux, look into the Sharp Zaurus and make sure sellers specify Linux as the operating system for the device.

RIM Blackberry
Bluetooth-enabled RIM Blackberry devices include an organiser, browser, keyboard, and most include speakerphone. You can access your personal email with it or, if your IT department supports the technology, access your corporate email from a compatible Lotus Domino or Microsoft Exchange server.
Make sure the PDA you want works with the service you want to use. Sellers will usually include this information in an item description. Certain models, such as the BlackBerry 5790, do not have integrated mobile phone functionality.

Back to top


Determine Your Memory Needs


Determine Your Memory Needs
In general, Palm OS devices use memory more efficiently than Pocket PC devices running Windows. No matter which operating system you choose however, the more you plan to do with your PDA, the more memory you'll need.
16MB or more: Adequate to store contact information and perform basic calendaring.

32MB or more: Required to run additional programs such as PDA versions of Microsoft Office applications.

64MB or more: Recommended to play audio and view video files.
If you want to use your PDA to listen to music, store images, or play video, consider looking into a model with an external expansion slot. Expansion cards let you store information on the same type of CompactFlash, Secure Digital, or MultiMediaCard memory card you may already use in your digital camera or MP3 player.

Back to top


Screen Selection & Battery Life


Screen Selection & Battery Life
PDAs can come with either a monochrome or colour screen. Bright and colourful screens enhance your PDA user-experience, but the larger and brighter your screen, the more battery power you use. A few tricks can help you extend battery life:
If you buy an older PDA that runs on AAA batteries, make sure it has a monochrome screen.

A battery usually lasts 2 to 10 hours on a single charge. If you want to get the best battery life don't use the brightest screen setting.
If you buy a later model PDA that runs on rechargeable batteries, and you want to use the brightest screen setting, look into models that have removable batteries and keep a spare handy.

Back to top


Cool Extra Features


Cool Extra Features
A lot of PDAs come with options that can make your life a little easier. Consider including these terms in your keyword search when shopping on eBay Australia.

Back to top


Shopping for PDA Accessories


Shopping for PDA Accessories
Shop for all your PDA Accessories on eBay Australia. You'll find a huge range of accessories by top brands like HP, Compaq, Palm, Dell, Toshiba, Sony, Apple, Newton, and more.
Cases: Make sure your PDA is well protected by an aluminium or metal hard case, or alternatively, a leather case. You may also like to consider durable silicone skin cases that generally come with belt clips and in various colours.

Batteries: Buy yourself an extra battery to keep your PDA running. Another solution is portable battery extenders which can help for long trips.

Car Holders: Find easy to install, adjustable and universal car holders for a variety of PDAs and other devices.

Car Chargers: Plug in car chargers are also great for long car trips to ensure your PDA does not run out of battery power.

Cables: Sychronise and charge your PDA at the same time with USB retractable sync cables.

Keyboards: Find wireless Bluetooth keyboards that you can connect to your PDA. These compact and comfortable keyboards allow you to type anywhere at anytime.

Docking Cradles: Docking cradles serve a double function, allowing you to sychronise your data as well as charge your PDA.

Screen Protectors: You may like to consider buying a transparent screen protector which can help to prevent your PDA getting scratched or damaged.

Back to top


How to Find PDAs on eBay Australia


How to Find PDAs on eBay Australia
Now that you know what to look for, head over to eBay Australia's Computers & IT portal, click on PDAs, Handhelds, and start shopping!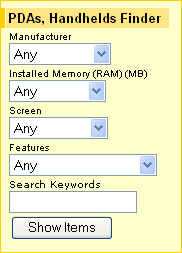 Use the PDAs, Handhelds Finder: Narrow down item listings by manufacturer, installed memory, screen, or features. Select options from multiple drop-down boxes for the best results.

Categories: On the left hand side of the page you will find category links which will help you to narrow down your choices. For example, under PDAs, Handhelds you should find links to HP, Compaq, Palm, O2 XDA and other brands.

Keyword search: Let eBay Australia find items for you by entering the keywords you want to find into the search box. For example, if you want a HP Bluetooth-enabled Pocket PC, type "HP bluetooth pocket pc" into the search box. If you want a PDA that's still under warranty, type "warranty" in the search box. Put a check next to "Search title and description" to expand your search. Visit eBay Australia's Search Tips page for more advice about searching with keywords.
If you can't find exactly what you want, search eBay Stores - it's like walking into a virtual electronics superstore! Still can't find it? Tell the eBay Australia community what you want by creating a post on Want It Now or save a search on My eBay and eBay Australia will email you when a match becomes available.

Back to top


Buy with Confidence


Buy with Confidence
Before making your purchase, make sure you know exactly what you're buying, research your seller, and understand how eBay Australia and PayPal protect you.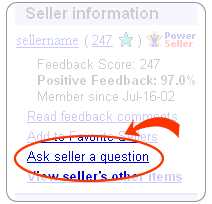 Know your purchase
Carefully read the details in item listings.
Figure delivery costs into your final price. If you spend a lot of money, make sure the seller will insure the item when it ships.

If you want more information, ask by clicking the "Ask seller a question" link under the seller's profile.

Always make sure to complete your transaction on eBay Australia (with a bid, Buy It Now, or Best Offer). Transactions conducted outside of eBay Australia are not covered by eBay Australia protection programs.

Never pay for your eBay Australia item using instant cash wire transfer services through Western Union or MoneyGram. These payment methods are unsafe when paying someone you do not know.
Know your seller
Research your seller so you feel positive and secure about every transaction.
What is the seller's Feedback rating? How many transactions have they completed? What percentage of positive responses do they have?

What do buyers say in their Feedback? Did the seller receive praise?

Most top eBay Australia sellers operate like retail stores and have return policies. Do they offer a money-back guarantee? What are the terms and conditions?
Buyer protection
In the unlikely event that a problem arises during your transaction, eBay Australia and PayPal are there for you.
Pay safely with PayPal: PayPal enables you to pay without the seller ever seeing your bank account or credit card numbers. In fact, PayPal protects buyers 100% against unauthorised payments from their accounts. Plus, with PayPal Buyer Protection, your purchase can be covered up to $1,500.
eBay Australia Security & Resolution Centre: Visit the Security & Resolution Centre to learn how to protect your account and use eBay Australia's quick and efficient resolution tools.

Back to top


Need More Help?


Need More Help?
Visit our help pages or start a thread on one of our Community Discussion Boards - If you have a quick question that needs answering, try posting it on our community Answer Centre - there's bound to be a seasoned eBay Australia veteran with just the information you're looking for!

Back to top


Legal Disclaimer


Legal Disclaimer
Buying Guides are intended merely as a guide or review for members when considering what products or services they may be interested in bidding on or purchasing. eBay does not make, and nothing in these Buying Guides is intended to constitute, any warranties, guarantees, representations or assurances about the accuracy of the information or content contained in these Buying Guides. Furthermore, eBay does not make, and nothing in these Buying Guides is intended to constitute, any warranties, guarantees, representations or assurances about the nature or performance of the products or services appearing in the Buying Guides. eBay is not affiliated with nor does it endorse the use of any particular product or service.

Back to top


---