eBay Australia's Movie & TV Memorabilia Buying Guide


Discover Movie & TV Memorabilia


Discover Movie & TV Memorabilia
Movie & TV memorabilia cover a variety of genres and includes a range of items from the highly in demand, for example Star Wars memorabilia, to the bizarre, for example, dolls and novelties. You'll find memorabilia as diverse and as numerous as there are entertainment icons in movies and television.
Autographs: Discover both original autographs and reprints on eBay Australia. Find original autographs from movie stars and television stars, such as Angelina Jolie, Johnny Depp, Jennifer Aniston, Orlando Bloom, Julia Roberts, Nicole Kidman, Heath Ledger and more. Decorate your wall with a signed cast photo, such as one from the cast of Sex and the City, Friends, Buffy, Desperate Housewives and Lord of the Rings.

Screen-used memorabilia: If you're a true fan you'll want to buy props and wardrobe items too of your favourite movie or TV stars.

Personal items: Personal items can be anything and everything that a celebrity has touched, signed, or worn.

Limited-edition goods: Manufacturers or studios decide whether to produce a limited number of a certain item, or allow a certain number of licensed autographed items to enter the marketplace. Limited editions often come with a certificate of authenticity (COA), even if they do not have an autograph.


Back to top


Collect Movie & TV Memorabilia


Collect Movie & TV Memorabilia
Start your movie or TV memorabilia collection by firstly picking a theme. You can do this by item type, for example, by singling out only television posters or only photographs. Also consider collecting by genre, such as comedy, or horror, or sci-fi.
Some of the best collections have an even narrower focus, with fans collecting from a single movie, or television show. Popular examples include Harry Potter, Star Wars, Lord of the Rings, Star Trek, Lost, Buffy, Seinfeld and more. You'll also discover memorabilia to add to your collection from great Australian long-standing dramas like Neighbours, Home & Away, and even reality TV shows like Big Brother and Australian Idol.
Another great way to build a collection is by actor or personality, which can span different movies, different time periods, and even different types of entertainment from music to film to theatre. Some examples of popular actors include Elvis, Marilyn Monroe, Audrey Hepburn, Jessica Alba, Jennifer Garner, Russell Crowe, Keanu Reeves and many others. Lastly, consider collecting according to an era, such as 1970s movie memorabilia.
Think about how much you are willing to pay and how many items you'd like to have when building a collection, since movie and TV memorabilia can differ quite a lot in value. For example, original movie posters, with no reprints, would probably sell for more than other related items in the same genre.
Finally, make sure you take the right steps to protect your movie and TV collectables from light, temperature, humidity, and acidity as all of these have the potential to adversely affect certain pieces and reduce their long-term value.

Back to top


Research Movie & TV Memorabilia


Research Movie & TV Memorabilia
Collectors of movie and TV memorabilia generally prefer to search for authenticated items. Proof of authenticity can take many forms, including:
Tags: Studio tags or a costumer's tag, or the name of an actor or actress written into the collar of a particular wardrobe piece.

Studio markings: Studio markings on props.

Photographs: Still photographs of celebrities wearing a particular item or signing a certain item.

Testimonials: The personal word of someone associated with the film, or the television show.

Certificates of authenticity: Certificate of authenticity (COA) from the studio or seller that was issued by an authenticator with industry credibility, or an entity that has a proven track record of experience and integrity.
Thoroughly check the item listing for photos and any other important details, including the provenance of the item (this includes information such as how, when, and where the item was obtained).

Back to top


Find Movie & TV Memorabilia on eBay Australia


Find Movie & TV Memorabilia on eBay Australia
Once you know what you want, visit the DVDs & Movies portal, click on Memorabilia, and start searching for item listings on eBay Australia.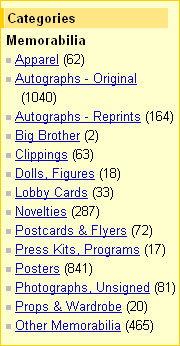 Keyword search: Search eBay Australia listing titles for specific words. For example, if you want to find a Star wars poster, type "Star wars poster" (without quotation marks) into the Search box. Click "Search title and description" to expand your results. Visit eBay Australia's Search Tips page for more tips on searching with keywords.
If you can't find exactly what you want, try shopping eBay Stores, tell sellers what you want by creating a posting on Want It Now, or save a search on My eBay and eBay Australia will notify you when a match becomes available.

Back to top


Buy Movie & TV Memorabilia with Confidence


Buy Movie & TV Memorabilia with Confidence
Before making your purchase, make sure you know exactly what you're buying, research your seller, and understand how eBay Australia and PayPal protect you.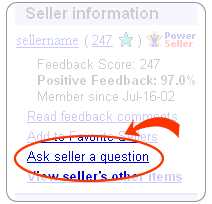 Know your purchase
Carefully read the details in item listings.
Figure delivery costs into your final price. If you spend a lot of money, make sure the seller will insure the item when it ships.

If you want more information, ask by clicking the "Ask seller a question" link under the seller's profile.

Always make sure to complete your transaction on eBay Australia (with a bid, Buy It Now, or Best Offer). Transactions conducted outside of eBay Australia are not covered by eBay Australia protection programs.

Never pay for your eBay Australia item using instant cash wire transfer services through Western Union or MoneyGram. These payment methods are unsafe when paying someone you do not know.
Know your seller
Research your seller so you feel positive and secure about every transaction.
What is the seller's Feedback rating? How many transactions have they completed? What percentage of positive responses do they have?

What do buyers say in their Feedback? Did the seller receive praise?

Most top eBay Australia sellers operate like retail stores and have return policies. Do they offer a money-back guarantee? What are the terms and conditions?
Buyer protection
In the unlikely event that a problem arises during your transaction, eBay Australia and PayPal are there for you.
Pay safely with PayPal: PayPal enables you to pay without the seller ever seeing your bank account or credit card numbers. In fact, PayPal protects buyers 100% against unauthorised payments from their accounts. Plus, with PayPal Buyer Protection, your purchase can be covered up to $1,500.

eBay Australia Security & Resolution Centre: Visit the Security & Resolution Centre to learn how to protect your account and use eBay Australia's quick and efficient resolution tools.

Back to top


Need More Help?


Need More Help?
Visit our help pages or start a thread on one of our Community Discussion Boards - If you have a quick question that needs answering, try posting it on our community Answer Centre - there's bound to be a seasoned eBay Australia veteran with just the information you're looking for!

Back to top


Legal Disclaimer


Legal Disclaimer
Buying Guides are intended merely as a guide or review for members when considering what products or services they may be interested in bidding on or purchasing. eBay does not make, and nothing in these Buying Guides is intended to constitute, any warranties, guarantees, representations or assurances about the accuracy of the information or content contained in these Buying Guides. Furthermore, eBay does not make, and nothing in these Buying Guides is intended to constitute, any warranties, guarantees, representations or assurances about the nature or performance of the products or services appearing in the Buying Guides. Content, trademarks and brands referred to and contained in the third-party links provided are the property of their respective owners, and eBay has no control over and accepts no responsibility for their content. eBay is not affiliated with nor does it endorse the use of any particular product or service.

Back to top


---