eBay Australia's Mobile Phone Buying Guide


Whether you are looking to continue your current service plan, change service providers or start with a new service provider, you can find the mobile phone that fits your needs on eBay Australia! This guide will help you determine if your current provider will accommodate the mobile phone you are interested in buying, determine which features are right for you, and help you navigate the options to find the mobile phone that meets both your needs and budget. Start shopping for Mobile Phones now on eBay Australia!

Evaluate Mobile Phone Features


Evaluate Mobile Phone Features
On eBay Australia, the vast selection of new and used mobile phones means that you should be able to find a phone in any shape, size and price category. If your mobile phone needs are quite basic, you can dispense with the all the bells and whistles associated with some of the higher cost models. If cost is not an issue, you will find a one-stop-shop for all the latest and greatest in mobile phone technology from around the world.
The options to consider when shopping for a mobile phone are often confusing, and new features for mobile phones grow day by day. To narrow your search, think about the following key questions:
Do you plan to use your mobile phone outside of your local area?
If you plan on using your phone outside of Australia, you may want to choose a Tri Band GSM phone that is able to operate across three GSM (Global System for Mobile Communications) frequencies. GSM is the standard network type utilised around the world. If you are not planning using your phone internationally, then a standard GSM phone is generally sufficient within a metropolitan area. Alternatively, a CDMA network may suit your needs. CDMA in particular is ideal for users in rural and regional areas due to its coverage over longer distances. This network is also used in North America.
Would you like access to the internet or email from your mobile phone?
Many mobile phones and service providers now offer email and internet access. If you require this functionality, ensure that the model you are interested in is email and/or web-enabled.
Additional Features
The latest model of phones now come with a host of additional features that can further simplify (or perhaps even complicate!) your search. Some features now available include: built-in camera, colour screen, PDA, Email/Web, unlocked, MP3 players, speaker-phone, walkie-talkie, voice-activated calling and games.
How important is your phone's size and weight?
Functionality and fashion seem to go hand in hand and we now have a vast selection of shapes, sizes and weights to choose from. The main varieties and their comparative advantages include:


Back to top


Select a Mobile Phone Service Provider


Select a Mobile Phone Service Provider
Service providers work with specific mobile phone manufacturers to produce phones that are compatible with their networks and feature offerings. On eBay Australia, you will find phones for every major service provider. There are also phones ready to be connected with a new service plan, prepaid phones or prepaid starter kits for those who want no plan at all.
Australian Service Providers
If you already have a service contract with a carrier and are not looking to change from your service provider, then a new mobile phone that is unlocked (ie. will work for any service provider) may be what you need.
The major service providers within Australia that offer mobile phone plans and prepaid sim cards are:
Pre-Paid Services
If you want the convenience of a prepaid service, there are specific phone models which are available for use with prepaid phone cards. Search through the prepaid section and find the right choice for you. You may also want to find out more about prepaid phones with SIM cards, prepaid recharge cards or prepaid SIM starter kits.
Coverage
Once you have narrowed the search of the mobile phones that you are interested in down to just a few, you may want to confirm with your desired service provider that they can provde the coverage you require in your specific geographic area.
Keep your old phone number!
The Australian Communications and Media Authority (ACMA) requires all service providers to offer "number porting" in which you can save your old phone number (land-line or mobile) and transfer it to your new service provider. Call your service provider or contact them online for details.

Back to top


Find Mobile Phones on eBay Australia


Find Mobile Phones on eBay Australia
Once you know what type of mobile phone you want, go to the Mobiles & Phones portal, and select Mobile Phones to start searching for item listings on eBay Australia.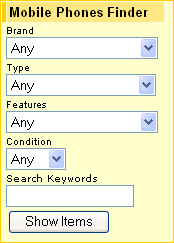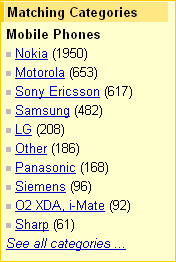 Product Finder: Use the drop-down menus on the Mobile Phones Finder on the left side of your screen to select system preferences such as Brand, Type, Features, Condition. There is also a Search Keywords section.

Categories: The Categories list on the left side of each page will help you narrow down your listings by brand type. You will find links for Blackberry, Motorola, Siemens, Sony Ericsson and more.

Keyword search: Search eBay Australia listing titles for specific words. For example, if you want to find a Bluetooth headset, type "bluetooth headset" (without quotation marks) into the Search box. Click "Search title and description" to expand your results. Visit eBay Australia's Search Tips page for more tips on searching with keywords.
If you can't find exactly what you want, try shopping eBay Stores, tell the eBay Australia Community what you want by creating a post on Want It Now, or save my search on My eBay will email you when a match becomes available.

Back to top


Buy with Confidence


Buy with Confidence
Before making your purchase, make sure you know exactly what you're buying, research your seller, and understand how eBay Australia and PayPal protect you.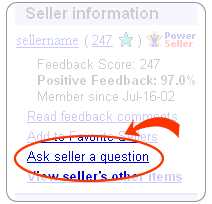 Know your purchase
Carefully read the details in item listings.
Figure delivery costs into your final price. If you spend a lot of money, make sure the seller will insure the item when it ships.

If you want more information, ask by clicking the "Ask seller a question" link under the seller's profile.

Always make sure to complete your transaction on eBay Australia (with a bid, Buy It Now, or Best Offer). Transactions conducted outside of eBay Australia are not covered by eBay Australia protection programs.

Never pay for your eBay Australia item using instant cash wire transfer services through Western Union or MoneyGram. These payment methods are unsafe when paying someone you do not know.
Know your seller
Research your seller so you feel positive and secure about every transaction.
What is the seller's Feedback rating? How many transactions have they completed? What percentage of positive responses do they have?

What do buyers say in their Feedback? Did the seller receive praise?

Most top eBay Australia sellers operate like retail stores and have return policies. Do they offer a money-back guarantee? What are the terms and conditions?
Buyer protection
In the unlikely event that a problem arises during your transaction, eBay Australia and PayPal are there for you.
Pay safely with PayPal: PayPal enables you to pay without the seller ever seeing your bank account or credit card numbers. In fact, PayPal protects buyers 100% against unauthorised payments from their accounts. Plus, with PayPal Buyer Protection, your purchase can be covered up to $1,500.

eBay Australia Security & Resolution Centre: Visit the Security & Resolution Centre to learn how to protect your account and use eBay Australia's quick and efficient resolution tools.

Back to top


Need More Help?


Need More Help?
Visit our help pages or start a thread on one of our Community Discussion Boards - If you have a quick question that needs answering, try posting it on our community Answer Centre - there's bound to be a seasoned eBay Australia veteran with just the information you're looking for!

Back to top


Legal Disclaimer


Legal Disclaimer
Buying Guides are intended merely as a guide or review for members when considering what products or services they may be interested in bidding on or purchasing. eBay Australia does not make, and nothing in these Buying Guides is intended to constitute, any warranties, guarantees, representations or assurances about the accuracy of the information or content contained in these Buying Guides. Furthermore, eBay Australia does not make, and nothing in these Buying Guides is intended to constitute, any warranties, guarantees, representations or assurances about the nature or performance of the products or services appearing in the Buying Guides. eBay Australia is not affiliated with nor does it endorse the use of any particular product or service.

Back to top


---