eBay Australia's Knitting, Crochet & Yarn Buying Guide


Discover Knitting & Crochet


Discover Knitting & Crochet
Throw out the old cliché that knitting and crochet are only for elderly ladies. These days, young people are picking up the hobby as well to create some unique and fashionable clothing and accessories including scarves, sweaters and beanies.
Understand knitting basics
Knitting is simply a means of looping yarns in a series of parallel, interlocking rows to form a knit fabric. A pair of knitting needles, yarn, and a little instruction is all that is required to get started. You can also accomplish knitting with knitting machines.
Get to know crochet
Crochet is very similar to knitting but includes the use of a crochet hook to pull loops through a slipknot. Multiple loops can be pulled through the knot and, if you use a fine thread, you can make highly intricate and delicate patterns. Some of the most popular crochet patterns are filet, Tunisian, and broomstick lace.
Filet crochet: Filet crochet works from a pattern or graph. Using fine thread, it is possible to work text into filet crochet.

Tunisian crochet: Tunisian crochet uses elongated hooks with stoppers to create a thicker fabric with a definite front and back.

Broomstick lace: Broomstick lace uses thick needles instead of hooks and is great for making shawls and blankets.

Back to top


Explore Knitting Machines


Explore Knitting Machines
Knitting machines use rows of hooks and sliders, simulating the repetitive knitting and purling of knitting by hand. Knitting machines are useful for completing a large quantity of knitting quickly.
Learn knitting machine basics
Generally, knitting machines have three parts: a main knitting bed, a shaping device, and a ribbing bed.
Main knitting bed: This is where the knitting actually takes place.

Shaping device: This device takes a drawn pattern and lets you know how to operate the machine.

Ribbing bed: The ribbing bed allows you to apply ribs and different patterns to your garment.
Think about knitting machine features
Knitting machines all have different features, so pick one depending on the kind of knitting you want to. The decision to use either light- or heavy-weight yarn, or the patterns you choose, will also influence what kind of knitting machine you'll need.
Lightweight machines normally knit with floats, while heavier machines double knit without floats. Several knitting machines come with standard-gauge needles for average-sized yarns. You cannot knit heavy yarn on standard needles as they are just too close together. Similarly, if you knit fine yarn on heavy needles, you will end up with something that looks like a hairnet.

Back to top


Determine the Right Yarn for You


Determine the Right Yarn for You
Yarn, a long, narrow length of fibre that makes up many different textiles, is the main material used in knitting. Yarn can be composed from several different materials ranging from natural to synthetic.
Blended yarn: Blended yarn brings together the best qualities of natural and synthetic yarns.
There are also yarns available including handspun & handpainted yarns, metallic yarns, and frilly eyelash yarn.
The thickness of the yarn you select will affect the overall weight and texture of your garment. The thickness of a yarn is determined by the number of ply it has. A ply is a single strand of yarn. The strands are then plied, or twisted together to form the yarn. When you are selecting a yarn to purchase, you can often find helpful guidance on the knitting pattern you select.
Yarn is typically wrapped in balls or cylindrical skeins and normally sold by weight.

Back to top


Find Knitting, Crochet & Yarn on eBay Australia


Find Knitting, Crochet & Yarn on eBay Australia
Once you know what type of knitting supplies, crochet supplies, or yarn you need, visit eBay Australia's Crafts portal, click on Knitting, or Crochet, and start searching for item listings.
Categories: The Categories list on the left side of each page will help you narrow down your listings by item type. For example, when you land on a Knitting listings page, you'll find links for Needles, Patterns, Machine-Related, Yarn and Other.

Keyword search: Search eBay Australia listing titles for specific words. For example, if you want to find knitting needles, type "knitting needles" (without quotation marks) into the Search box. Click "Search title and description" to expand your results. Visit eBay Australia's Search Tips page for more tips on searching with keywords.
If you can't find exactly what you want, try shopping eBay Stores, tell the eBay Australia Community what you want by creating a post on Want It Now, or save a search on My eBay and eBay Australia will email you when a match becomes available.

Back to top


Buy Knitting, Crochet & Yarn With Confidence


Buy Knitting, Crochet & Yarn With Confidence
Before making your purchase, make sure you know exactly what you're buying, research your seller, and understand how eBay Australia and PayPal protect you.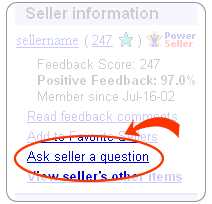 Know your purchase
Carefully read the details in item listings.
Figure delivery costs into your final price. If you spend a lot of money, make sure the seller will insure the item when it ships.

If you want more information, ask by clicking the "Ask seller a question" link under the seller's profile.

Always make sure to complete your transaction on eBay Australia (with a bid, Buy It Now, or Best Offer). Transactions conducted outside of eBay Australia are not covered by eBay Australia protection programs.

Never pay for your eBay Australia item using instant cash wire transfer services through Western Union or MoneyGram. These payment methods are unsafe when paying someone you do not know.
Know your seller
Research your seller so you feel positive and secure about every transaction.
What is the seller's Feedback rating? How many transactions have they completed? What percentage of positive responses do they have?

What do buyers say in their Feedback? Did the seller receive praise?

Most top eBay Australia sellers operate like retail stores and have return policies. Do they offer a money-back guarantee? What are the terms and conditions?
Buyer protection
In the unlikely event that a problem arises during your transaction, eBay Australia and PayPal are there for you.
Pay safely with PayPal: PayPal enables you to pay without the seller ever seeing your bank account or credit card numbers. In fact, PayPal protects buyers 100% against unauthorised payments from their accounts. Plus, with PayPal Buyer Protection, your purchase can be covered up to $1,500.

eBay Australia Security & Resolution Centre: Visit the Security & Resolution Centre to learn how to protect your account and use eBay Australia's quick and efficient resolution tools.

Back to top


Need More Help?


Need More Help?
Visit our help pages or start a thread on one of our Community Discussion Boards - If you have a quick question that needs answering, try posting it on our community Answer Centre - there's bound to be a seasoned eBay Australia veteran with just the information you're looking for!

Back to top


Legal Disclaimer


Legal Disclaimer
Buying Guides are intended merely as a guide or review for members when considering what products or services they may be interested in bidding on or purchasing. eBay does not make, and nothing in these Buying Guides is intended to constitute, any warranties, guarantees, representations or assurances about the accuracy of the information or content contained in these Buying Guides. Furthermore, eBay does not make, and nothing in these Buying Guides is intended to constitute, any warranties, guarantees, representations or assurances about the nature or performance of the products or services appearing in the Buying Guides. Content, trademarks and brands referred to and contained in the third-party links provided are the property of their respective owners, and eBay has no control over and accepts no responsibility for their content. eBay is not affiliated with nor does it endorse the use of any particular product or service.

Back to top


---