eBay Australia's Home Audio Buying Guide


Select Speakers & Set Up Surround Sound


Select Speakers & Set Up Surround Sound
Make music and movies sound better than ever with a new set of speakers—whether you're looking for iPod speakers, Bose speakers, JBL speakers or Yamaha speakers. Ideally, each speaker in a set will reproduce a separate channel of audio. For example, you'll need left and right stereo speakers, available in a variety of sizes, to reproduce two-channel stereo recordings. Purchase additional speakers to immerse listeners in surround sound sporting events, movies, and music from HDTV, DVDs, SACDs, and DVD-Audio.
Set up your speakers
Set up your speakers around a primary listening position in your room. In a home entertainment setup, it will be directly in front of the television, ideally with some space between the position and a room's back wall.
You'll find a variety of other speakers on eBay Australia, including in-wall speakers that allow you to hide your components, wireless speakers, and weatherproof outdoor speakers.

Back to top


Choose Receivers, Amps, and Equalisers


Choose Receivers, Amps, and Equalisers
Receiver power speakers allow you to adjust settings such as bass and treble. You can connect them to multiple home entertainment devices, and most include a built-in AM/FM radio tuner. Find popular receivers by Sony, Yamaha, Marantz and Pioneer. When shopping, decide if you want a stereo receiver or a home theatre receiver.
Stereo receivers: With two channels of amplification, stereo receivers output stereo audio from traditional CDs, cassettes, turntables, or radio to a set of speakers.

Home theatre receivers: Home theatre receivers sit at the centre of your home entertainment system, powering multiple speakers and decoding surround sound audio from DVD movies, HDTV, and multichannel audio discs. You can also listen to music from traditional CDs, cassettes, turntables, or radio.
Amplify your audio
Audiophiles want ultimate sound control. Setting up a separate preamplifier, amplifier, and equaliser takes more time and expertise, but can give you the control you crave.
Amplifiers: Get more power and step up your sound. An amplifier should offer at least 100 watts of power per audio channel, equally distributed throughout a system. You should also look at total harmonic distortion (THD), a measurement of amplifier signal purity. The number indicates how clean your music and movies will sound. Even though THD ratings typically fall below one percent, look for lower numbers, preferably below 0.1 percent, if you want the cleanest power. Yamaha, Sony, Pioneer and Marantz make a great range of amplifiers.

Preamplifiers: Pump up low-level signals before they reach your amplifier with a preamplifier. It'll decrease your signal-to-noise ratio, producing a cleaner sound.
Some preamps include an equaliser, which allows you to boost or attenuate an audio signal. You can also buy a separate equaliser to balance your audio signal.

Back to top


Play Your Music on Home Audio


Play Your Music on Home Audio
Buy the home audio components you need to play the audio formats you love.
Radios and compact hi fi systems also make a good option for offices and bedrooms.

Back to top


Stock Up on Home Audio Accessories


Stock Up on Home Audio Accessories
Pick up additional home audio gear to complement and complete your entertainment centre.
Get the right cables
Discover devices that will protect your home audio system and connect your speakers, receiver, and other audio components on eBay Australia. You'll find surge protectors and cables, including Monster Cables. The devices you want to connect to your receiver determine the type of cables you need to buy.
Keep quiet
Headphones allow you to listen to your music and movies at any volume, at any time of day, without bothering your roommates or neighbours. Noise-cancelling headphones block out the noise around you while wireless headphones provide the most freedom of movement.
Take control
Replace your old remote controls or control your CD player, AM/FM tuner, DVD player, and television with a single universal remote control.

Back to top


Find Home Audio Components on eBay Australia


Find Home Audio Components on eBay Australia
Once you know what you need, go to eBay Australia's Electronics portal, click Audio - Home, and start your shopping experience.
Categories lists: Links in the Categories list on the left hand side of the page will help you navigate through a category. For example, the Home Audio Categories list contains links to Amplifiers, Cassette Decks, CD Players, Hi Fi Systems, and more. Once you click a link, you'll find another Categories list on the new listings page that will help you narrow down your choices further.

Keyword search: Let eBay Australia find items for you by entering the keywords you want to find into eBay Australia's general Search box. For example, if you are looking for some Bose speakers, type in "Bose speakers" (without quotation marks) into the search box. You can also check the box "Search title and description" to expand your listings. Visit eBay Australia's Search Tips page to get more information about searching with keywords.
If you can't find exactly what you want, try shopping eBay Stores, tell the eBay Australia Community what you want by creating a post on Want It Now, or save a search on My eBay and eBay Australia will email you when a match becomes available.

Back to top


Buy With Confidence


Buy With Confidence
Before making your purchase, make sure you know exactly what you're buying, research your seller, and understand how eBay Australia and PayPal protect you.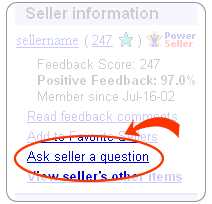 Know your purchase
Carefully read the details in item listings.
Figure delivery costs into your final price. If you spend a lot of money, make sure the seller will insure the item when it ships.

If you want more information, ask by clicking the "Ask seller a question" link under the seller's profile.

Always make sure to complete your transaction on eBay Australia (with a bid, Buy It Now, or Best Offer). Transactions conducted outside of eBay Australia are not covered by eBay Australia protection programs.

Never pay for your eBay Australia item using instant cash wire transfer services through Western Union or MoneyGram. These payment methods are unsafe when paying someone you do not know.
Know your seller
Research your seller so you feel positive and secure about every transaction.
What is the seller's Feedback rating? How many transactions have they completed? What percentage of positive responses do they have?

What do buyers say in their Feedback? Did the seller receive praise?

Most top eBay Australia sellers operate like retail stores and have return policies. Do they offer a money-back guarantee? What are the terms and conditions?
Buyer protection
In the unlikely event that a problem arises during your transaction, eBay Australia and PayPal are there for you.
Pay safely with PayPal: PayPal enables you to pay without the seller ever seeing your bank account or credit card numbers. In fact, PayPal protects buyers 100% against unauthorised payments from their accounts. Plus, with PayPal Buyer Protection, your purchase can be covered up to $1,500.

eBay Australia Security & Resolution Centre: Visit the Security & Resolution Centre to learn how to protect your account and use eBay Australia's quick and efficient resolution tools.

Back to top


Need More Help?


Need More Help?
Visit our help pages or start a thread on one of our Community Discussion Boards - If you have a quick question that needs answering, try posting it on our community Answer Centre - there's bound to be a seasoned eBay Australia veteran with just the information you're looking for!

Back to top


Legal Disclaimer


Legal Disclaimer
Buying Guides are intended merely as a guide or review for members when considering what products or services they may be interested in bidding on or purchasing. eBay does not make, and nothing in these Buying Guides is intended to constitute, any warranties, guarantees, representations or assurances about the accuracy of the information or content contained in these Buying Guides. Furthermore, eBay does not make, and nothing in these Buying Guides is intended to constitute, any warranties, guarantees, representations or assurances about the nature or performance of the products or services appearing in the Buying Guides. eBay is not affiliated with nor does it endorse the use of any particular product or service.

Back to top


---