eBay Australia's Furniture Buying Guide


Whether you need a lounge for your living room, a desk for your home office, a bed for your child's room or something special to create your own unique personal space, your furniture can help you express yourself and serve a purpose as well. You'll find a large selection of furniture in a variety of styles on eBay Australia, including the latest IKEA furniture and Freedom furniture designs. Start shopping for furniture now on eBay Australia!

Set Your Furniture Priorities


Set Your Furniture Priorities
Before redecorating an entire room or buying a single piece of furniture, there are some points you might want to consider:
Furniture type: Determine what type of furniture your room can support.

Budget: Setting a budget will help narrow down your furniture search and keep you focused. Set realistic price expectations, based on how long you want the furniture to last and your style preferences. For example, if you plan to redecorate frequently, look for mass-produced furniture. Perhaps you're looking for something special? Set more money aside for hand-made furniture. An expensive, well-constructed piece of furniture can really be worth it in the long run, especially if you use it in a high-traffic area. For example, a well-made, $500 armchair upholstered with high-quality fabric can last five years or more. Expect to pay more for a leather chaise-lounge than one with a washable slipcover; more for a mahogany coffee table than wicker furniture; and more for a dining room table than a children's play table.

Measurements: Start by taking measurements of the room and possible entry-points, such as door-ways. It's better to make sure now that the over-sized lounge you love can fit through the door!

Room layout: Sketch a detailed layout of the room that you intend to furnish. This will allow you to narrow your furniture search to items of a certain size and depth.
Find furniture to fit your lifestyle
Furniture durability depends on construction, the people who will use the furniture, and how it's used. If you've got kids, you might need stain-resistant children's furniture that wears well. Do you like to entertain? Splurge on that designer Italian sofa. Popular furniture trends often revolve around practical furniture designed for rooms that get a lot of use.
Outdoor furniture: The backyard used to be just a backyard, but now it has been an extension of your home and expanding your living space. Wrought-iron outdoor settings are a staple of many outdoor entertainment areas, but you can also choose deck-chairs for the relaxed laid-back look, colourful umbrellas and comfy hammocks.
Other considerations
There are a few other things to keep in mind when buying furniture:
Care: Always consider how much care a furniture piece needs and how much you're willing to put into its upkeep before making a purchase. No matter how much use furniture gets, you can extend its life with a little tender loving care and attention.

Additional Costs: Factor shipping costs and potential post-purchase repair or redesign costs, such as reupholstering, steam cleaning, painting and re-staining into your furniture budget.

Back to top


Discover Your Favourite Furniture Style


Discover Your Favourite Furniture Style
With such a wide range of brands and styles of furniture on eBay Australia, it helps to have a clear idea of what styles you prefer. The styles can range from Victorian, Edwardian, 1920's, art deco, modern and contemporary. Whether you like the clean lines of IKEA, the funky retro furniture look or the imported look of Eames, get a handle on your decorating personality before shopping.

Asian furniture
From low-to-the-ground coffee tables to bamboo armoires and celadon green ottomans, Asian furniture pieces are going main-stream. Furniture looks are as different as the cultures they represent.
Indonesian furniture: Find lovely Indonesian or Balinese furniture which is made of solid mahogany or teak. The designs are simple but solid.

Japanese furniture: Solid and utilitarian Japanese furniture made of solid elm, kiri, or gingko woods has minimal ornamentation and an asymmetrical design.

Chinese furniture: Large and heavy Chinese furniture pieces generally have minimal hardware and feature lacquer coatings, hand-painting, and precise carving.
Today's hottest furniture style trends
Get the "look of the moment."

Back to top


Choose Furniture Piece by Piece


Choose Furniture Piece by Piece
Every piece of furniture has a functional or decorative purpose. Make sure you know which features to consider when you shop for common home furnishings.
Shop for a sofa
Choose a sofa, based on the styles that suit you. You can choose a one-piece sofa or a modular sofa that includes two or more pieces.
Sofa backs: A sofa can have a tight back, camel back, attached pillow back, or loose pillow back. Reversible loose pillow backs offer more versatility.

Couch arms: Consider the style and height of the couch's arms. They can be armless, rolled, or curved. Go with a lower, padded, and rolled arm if you want to lounge on your sofa.

Sofa fabrics: Decide if you want upholstered, skirted, or bare legs and whether you want your couch to be upholstered or slip-covered.
Decide on a dining set
Dining room sets come in shapes and sizes to fit your entertaining needs. Traditional rectangular dining tables and round dining tables have a classic look and can include additional sections to create extended seating. Round dining tables offer better conversational flow. Remember to get dining chairs that fit underneath your table. Select classic-looking all-wood chairs, elegant upholstered chairs or comfortable cushioned chairs. Reserve larger armchairs for the ends of your table.
Choose chairs
From deep and soft chairs meant for lounging to more formal chairs perfect for socialising, you'll find a large selection of chairs on eBay Australia.
Upholstered chairs: Upholstered chairs with firm or upright seats provide good support for reading or socialising.

Occasional chairs: Decorative occasional chairs have a smaller scale than upholstered pieces. Look for clean, smooth joints with a minimum of nails and screws. Most occasional chairs are European in origin or inspiration (French or Italian) or 18th Century in design.

Recliners: Buy recliners for their comfort and practicality. Remember that some recliners require more space behind them to be fully extended. Newer models, known as wall loungers or wall savers, allow the back to operate independently from the ottoman so the chair can be placed in closer proximity to the wall.
Select furniture for storage
Get more storage space for your clothes, files, media, knickknacks and more.
Armoires: Stylish and versatile armoires can hide a TV, house a CD collection, enclose your home office, or give you some extra closet space. If the armoire doesn't work in your family room, add a hanging bar and try it in your bedroom

Dressers: Dressers, also called chests of drawers, work in the bedroom for storing everything from socks to sweaters. You can also use it in your entryway to keep keys, loose change, and other items. If you fall in love with a particular dresser, but aren't fond of the hinges, just change the hardware to fit your taste.

Desks: Desks can meet a decorative need, serve a functional purpose, or do both. For example, roll-top desks have an aesthetically pleasing look and conceal your papers and files. Buy a modular desk in a non-reflective colour for serious work. It should have at least one grommet hole to keep computer and telephone wires out of the way. Consider how much storage space you want your desk to provide when looking at desk drawer dimensions.
Pick out bedroom furniture
When looking for bedroom furniture, consider the size of your room, especially if you need a bed. Futons, day beds, bunk beds and trundle beds save space, but double-sized beds, queen-sized beds, and king-sized beds have more room to spread out. Buy a complete bedroom set or suites if you want a bed matching dressers. Think about adding a unique piece, such as a chaise lounge to larger bedrooms.

Back to top


Evaluate Wood Furniture Features


Evaluate Wood Furniture Features
Wood furnishings, also called "case goods" in the furniture industry, will likely stay in your home for a long while, and may even be passed down from generation to generation. When buying wood furniture such as armoires, buffets or sideboards, dressers, tables, desks and bookcases look for quality construction, materials, and finish.
Look for quality wood
Wood comes in two varieties: hardwood and softwood.
Some furniture may use a combination of different hardwoods and softwoods.
Assess wood furniture construction
Manufacturers construct furniture using several different techniques.
Solid wood: Solid wood furniture has a lot of wood detail. The grain of the lumber carries through the core.

Wood veneers: Veneers are thin layers of high-quality decorative woods bonded to inferior solid wood, plywood, or particle board. You'll see them used on furniture at all price levels, including fine-quality furniture.

Wood laminates: Laminates are imitation hardwood surfaces applied to a composite wood product such as particle board. Low-cost laminates do not allow for any carving or detailing and have a simple appearance.
Also look at furniture joint construction. Joint assembly techniques such as dovetailing and doweling usually have superior construction.
Find a good wood finish
Finishes can provide uniform colour and give your furniture some protection from heat, dryness and moisture. A good finish makes a piece of wood furniture even more appealing and determines how much care it will require long term. The better the finish, the longer the piece will maintain its appearance. Choose distressed finish furniture for high-activity rooms. The rough-hewn and rustic finish easily hides finger marks and scratches.
To repair scratches and nicks on solid-wood furniture, sand down the blemishes and refinish the surface with a touch-up kit. Simply refinish veneered or laminated furniture.

Back to top


Understand Upholstered Furniture Features


Understand Upholstered Furniture Features
Upholstered furniture has four key components—frames, springs, padding and fabric— that determine comfort and durability. Look at each component to make a smart purchase.
Upholstered furniture frames
Kiln-dried hardwood frames made from oak, maple, or ash and joined with dowels have solid construction. They offer durability and a longer life for your piece of upholstered furniture. You'll also find quality frames constructed of steel, plastic or laminated boards on eBay Australia.
Upholstered furniture springs
Springs give sofas, and armchairs, their bounce. There are two types of spring systems: eight-way, hand-tied springs and sinuous springs.
Hand-tied springs: Hand-tied springs used in quality pieces never "bottom out."

Sinuous springs: Sinuous springs cost less to produce than hand-tied springs and provide a softer seat. The overall comfort and durability depends on the quantity and quality of the springs.
Upholstered furniture padding
Padding around a furniture frame prevents wear and tear on fabric and ensures comfort. Manufacturers commonly use cotton or polydacron. The materials used in seat cushions also play a big part in the comfort and look of a piece of furniture. Quality pieces sometimes use blendown, a combination of down and feathers wrapped around a foam core, to provide support while allowing users to comfortably settle down into a sofa, lounge or chair.
Select furniture fabric
Select furniture fabric based on how much you plan to use a piece of furniture, how long you plan to keep it and style. Tightly woven fabrics made of durable fibres tend to wear best. Durable synthetic fabrics such as nylon, polypropylene, and natural fibres such as cotton twill, velvet, suede, and chenille are good choices for active households. More delicate and elaborate fabrics such as satins, damasks and brocades make a good choice for decorative furniture pieces.
When looking at item listings, examine pictures carefully, making sure fabric patterns and stripes match at the seams. Also look for tags to determine fire safety. Members that comply with fire safety regulations will often include a hang tag on their products to let consumers know how their upholstery fabrics score in flammability tests.

Back to top


Find Furniture on eBay Australia


Find Furniture on eBay Australia
Once you know what type of furniture you want, go to the Home & Lifestyle portal, click Furniture and start searching for item listings on eBay Australia.
Keyword search: Search eBay Australia title listings for specific words. For example, if you want to find a mahogany dining table, type "mahogany dining table" (without quotation marks) into the Search box. Click "Search title and description" to expand your results. Visit eBay Australia's Search Tips page for more tips on searching with keywords.
If you can't find exactly what you want, try shopping eBay Stores, tell the eBay Australia Community what you want by creating a post on Want It Now, or save a search on My eBay and eBay Australia will email you when a match becomes available.

Back to top


Buy Furniture with Confidence


Buy Furniture with Confidence
Before making your purchase, make sure you know exactly what you're buying, research your seller, and understand how eBay Australia and PayPal protect you.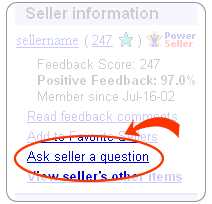 Know your purchase
Carefully read the details in item listings.
Figure delivery costs into your final price. If you spend a lot of money, make sure the seller will insure the item when it ships.

If you want more information, ask by clicking the "Ask seller a question" link under the seller's profile.

Always make sure to complete your transaction on eBay Australia (with a bid, Buy It Now, or Best Offer). Transactions conducted outside of eBay Australia are not covered by eBay Australia protection programs.

Never pay for your eBay Australia item using instant cash wire transfer services through Western Union or MoneyGram. These payment methods are unsafe when paying someone you do not know.
Know your seller
Research your seller so you feel positive and secure about every transaction.
What is the seller's Feedback rating? How many transactions have they completed? What percentage of positive responses do they have?

What do buyers say in their Feedback? Did the seller receive praise?

Most top eBay Australia sellers operate like retail stores and have return policies. Do they offer a money-back guarantee? What are the terms and conditions?
Buyer protection
In the unlikely event that a problem arises during your transaction, eBay Australia and PayPal are there for you.
Pay safely with PayPal: PayPal enables you to pay without the seller ever seeing your bank account or credit card numbers. In fact, PayPal protects buyers 100% against unauthorised payments from their accounts. Plus, with PayPal Buyer Protection, your purchase can be covered up to $1,500.

eBay Australia Security & Resolution Centre: Visit the Security & Resolution Centre to learn how to protect your account and use eBay Australia's quick and efficient resolution tools.

Back to top


Need More Help?


Need More Help?
Visit our help pages or start a thread on one of our Community Discussion Boards - If you have a quick question that needs answering, try posting it on our community Answer Centre - there's bound to be a seasoned eBay Australia veteran with just the information you're looking for!

Back to top


Legal Disclaimer


Legal Disclaimer
Buying Guides are intended merely as a guide or review for members when considering what products or services they may be interested in bidding on or purchasing. eBay does not make, and nothing in these Buying Guides is intended to constitute, any warranties, guarantees, representations or assurances about the accuracy of the information or content contained in these Buying Guides. Furthermore, eBay does not make, and nothing in these Buying Guides is intended to constitute, any warranties, guarantees, representations or assurances about the nature or performance of the products or services appearing in the Buying Guides. Content, trademarks and brands referred to and contained in the third-party links provided are the property of their respective owners, and eBay has no control over and accepts no responsibility for their content. eBay is not affiliated with nor does it endorse the use of any particular product or service.

Back to top


---