eBay Australia's Electric Guitar Buying Guide


Electric guitars represent rock and roll freedom. Whether you are a beginner, member of a garage band, or professional musician, eBay Australia strikes just the right power chord with a great selection of electric guitars. Start shopping for electric guitars now on eBay Australia!

Discover Electric Guitars


Discover Electric Guitars
Electric guitars vary primarily according to their body, tone woods, number of strings, and electronic components.
Solid-body electric guitars: Solid-body guitars are the most common electric guitars on the market and are made of a solid piece of wood or a combination of various pieces of wood. They need amplification to play at higher volume levels. Choose a solid-body electric guitar if you like rock, blues, heavy metal, or country.

Hollow-body electric guitars: A hollow-body electric guitar is basically an acoustic guitar with pickups. Hollow bodies produce some acoustic output and can also be played through an amplifier. This guitar body type is great if you prefer softer, quieter types of music, such as jazz, that don't require a lot of amplification.

Semi-hollow body electric guitars: Semi-hollow body electric guitars offer acoustic output and electronics. They have a block of wood placed under the top which reduces feedback and allows the electric guitar to play at higher volume levels than hollow-body electric guitars.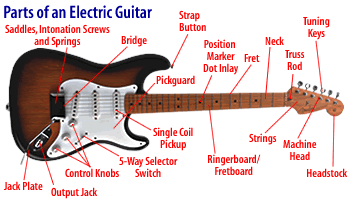 Knock on wood
The tone wood that makes up a solid-body electric guitar has a big impact on how the instrument sounds, informing its tone and sustain. Common woods for solid body electric guitars are maple and mahogany. Mahogany electric guitars offer a warm, round tone while maple, a stronger and denser wood, produces a brighter sound. Some electric guitars are also made of lighter-weight ash, which produces a ringing tone, or alder, which has a good tonal balance for a variety of musical styles.
The more expensive hollow body electric guitar models are constructed of solid spruce tops with solid maple backs and sides.
Count electric guitar strings
The standard electric guitar has six strings and works well for different types of players, but particularly beginners. Ibanez electric guitars, and ESP electric guitars all make 7-string electric guitars.
Consider trying out a 12-string guitar once you get to be a more advanced electric guitar player. You'll find 12-string electric guitars give your music a layered or doubled effect, as if two electric guitars were playing at once. Primarily used in folk or folk-rock, the "jangly" sound 12-string electric guitars were made famous by the Byrds, who played Rickenbacker 12-string electric guitars.
Double-neck electric guitars let you switch back and forth between 6 and 12 guitar strings; one neck has the usual 6 strings while the other has 12 guitar strings.
Look at electric guitar electronics
Electric guitar pickups "pick up" the string vibrations and send an electric signal to the amplifier. They're located beneath the strings and between the bottom of the neck and bridge of the electric guitar. There are two varieties of pickups: single-coil pickups and humbucker pickups (double coil).
Single-coil guitar pickups: Electric guitars with single-coil pickups produce a twangy, bright sound. They allow more hum and feedback, making them difficult to play at higher volume levels. Fender electric guitars often use single-coil pickups.

Humbuckers: Humbuckers produce a more powerful, "fatter" sound than single-coil pickups. The quiet pickup reduces extraneous noise and is associated with Gibson electric guitars.
Most electric guitars come with two or three pickups. Some also contain different pickup configurations (three single-coils and two humbuckers or two single-coils and one humbucker) that provide a larger sound range.

Back to top


Pick the Right Electric Guitar


Pick the Right Electric Guitar
Beginners generally prefer newer, less expensive electric guitars while pros and collectors prefer used electric guitars and look for specific brands and models.
Fender electric guitars and Gibson electric guitars are two of the most prominent names in the electric guitars market. Both electric guitar companies have been around for several decades, earning hardcore devotees and developing trademark sounds.
The Gibson electric guitar sound: Gibson electric guitars, such as the popular Les Paul electric guitar, and SG electric guitar, have a great blues tone. Gibson electric guitar aficionados include B. B. King, Jimmy Page, and Neil Young.

The Fender electric guitar sound: Fender electric guitars such as the Stratocaster electric guitar and Telecaster electric guitar are known for their thinner, more versatile sound. Eric Clapton, Jimi Hendrix, and Stevie Ray Vaughn are among those in the Fender electric guitar camp.
You'll find other increasingly popular electric guitar brands on eBay Australia, including Ibanez electric guitars, Epiphone electric guitars, Yamaha electric guitars, Behringer electric guitars and Washburn electric guitars.
Grab artist signature electric guitars
Many famous guitar players collaborate with electric guitar manufacturers to produce artist signature electric guitars. If you're a fan of certain guitarists, you can buy their signature guitars, including Steve Vai electric guitars, or Joe Satriani electric guitars and others.
Find electric guitars for lefties
Although most electric guitars are designed for right-handed players, lefties can also find left-handed electric guitar models, too.
Get an electric guitar package deal
Beginner electric guitar packages are equipped with all the gear you need to start playing right away, including an electric guitar, small amplifier, carrying bag, chord, strap, and picks.
Explore used electric guitars
Carefully read item descriptions, examine any photos, and prepare questions for the seller that you want answered before you buy. You'll want an electric guitar close to its original condition, with minimal signs of wear and tear such as scratches and dings. Ask if the electric guitar has had any alterations or repairs.


Back to top


Get the Electric Guitar Accessories You Need


Get the Electric Guitar Accessories You Need
You'll be ready to rock 'n' roll once you get the electric guitar accessories you need to play.

Back to top


Find Electric Guitars on eBay Australia


Find Electric Guitars on eBay Australia
Once you know what type of electric guitar you want, go to the Musical Instruments portal, click on Electric underneath the Guitars category, and start searching for item listings on eBay Australia.
Categories: The Categories list on the left side of each page will help you narrow down your listings by brand. You'll find links for Fender, Gibson, Ibanez, Yamaha, and other brands.

Keyword search: Search eBay Australia listing titles for specific words. For example, if you want to find a Fender Telecaster, type "Fender Telecaster" (without quotation marks) into the Search box. Click "Search title and description" to expand your results. Visit eBay Australia's Search Tips page for more tips on searching with keywords.
If you can't find exactly what you want, try shopping eBay Stores, tell the eBay Australia Community what you want by creating a post on Want It Now, or save a search on My eBay and eBay Australia will email you when a match becomes available.

Back to top


Buy with Confidence


Buy with Confidence
Before making your purchase, make sure you know exactly what you're buying, research your seller, and understand how eBay Australia and PayPal protect you.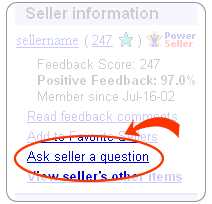 Know your purchase
Carefully read the details in item listings.
Figure delivery costs into your final price. If you spend a lot of money, make sure the seller will insure the item when it ships.

If you want more information, ask by clicking the "Ask seller a question" link under the seller's profile.

Always make sure to complete your transaction on eBay Australia (with a bid, Buy It Now, or Best Offer). Transactions conducted outside of eBay Australia are not covered by eBay protection programs.

Never pay for your eBay Australia item using instant cash wire transfer services through Western Union or MoneyGram. These payment methods are unsafe when paying someone you do not know.
Know your seller
Research your seller so you feel positive and secure about every transaction.
What is the seller's Feedback rating? How many transactions have they completed? What percentage of positive responses do they have?

What do buyers say in their Feedback? Did the seller receive praise?

Most top eBay Australia sellers operate like retail stores and have return policies. Do they offer a money-back guarantee? What are the terms and conditions?
Buyer protection
In the unlikely event that a problem arises during your transaction, eBay Australia and PayPal are there for you.
Pay safely with PayPal: PayPal enables you to pay without the seller ever seeing your bank account or credit card numbers. In fact, PayPal protects buyers 100% against unauthorised payments from their accounts. Plus, with PayPal Buyer Protection, your purchase can be covered up to $1,500.
eBay Australia Security & Resolution Centre: Visit the Security & Resolution Centre to learn how to protect your account and use eBay Australia's quick and efficient resolution tools.

Back to top


Need More Help?


Need More Help?
Visit our help pages or start a thread on one of our Community Discussion Boards - If you have a quick question that needs answering, try posting it on our community Answer Centre - there's bound to be a seasoned eBay Australia veteran with just the information you're looking for!

Back to top


Legal Disclaimer


Legal Disclaimer
Buying Guides are intended merely as a guide or review for members when considering what products or services they may be interested in bidding on or purchasing. eBay does not make, and nothing in these Buying Guides is intended to constitute, any warranties, guarantees, representations or assurances about the accuracy of the information or content contained in these Buying Guides. Furthermore, eBay does not make, and nothing in these Buying Guides is intended to constitute, any warranties, guarantees, representations or assurances about the nature or performance of the products or services appearing in the Buying Guides. eBay is not affiliated with nor does it endorse the use of any particular product or service.

Back to top


---