eBay Australia's Diecast Toy Vehicles Buying Guide


Determine Which Diecast Toy Vehicles You Want


Determine Which Diecast Toy Vehicles You Want
Before you start searching through the thousands of diecast vehicle item listings on eBay Australia, decide which toy vehicles you want. Collect your passion by searching out items you'll love for years to come.
Some diecast vehicle collectors stick to a general category, such as diecast cars, diecast passenger trucks, diecast aircraft, and diecast bikes and motorcycles. However you may prefer to get more specific and collect a particular brand such as Hot Wheels, Matchbox, Biante, Classic Carlectables, Trax, Corgi, Dinky and more.
Rev up your toy race car collection
Although you may not be able to fit or afford a full-fledged race car in your own garage, you can stock your shelves with diecast replicas of cars made famous by your favourite Bathurst 1000, NASCAR, Formula 1 (F1), V8 Supercar, Indy and LeMans drivers.
Indy toy cars: Championship cars have a great aerodynamic, low-to-the ground look. Collect small diecast versions of the cars raced by Indy stars.

Select specialty toy vehicles
eBay Australia also has a great collection of specialty toy vehicles available.
Find the toy cars you love
Car enthusiasts will love the chance to own miniature versions of the cars of their dreams.

Back to top


Understand Toy Vehicle Scale Sizing


Understand Toy Vehicle Scale Sizing
You may want to build your collection by focusing on scale models of a specific size. The scale indicates how large a replica appears relative to its real-world counterpart. As scale ratio increases, size decreases. For example, a 1:43 Holden Commodore will be smaller than a 1:18 Holden Commodore.
In their listings, sellers may indicate scale as a ratio or a fraction.
There are some brands that focus on a specific scale. For example, Mattel uses the 1:64 scale for the majority of its Hot Wheels diecast cars. However, other toy vehicle brands offer a wider selection of sizes. For example, Biante offers diecast miniatures in a variety of sizes including 1:18, 1:43, and 1:64.

Back to top


Collect Diecast Toy Vehicles


Collect Diecast Toy Vehicles
You can determine the age of a toy vehicle by considering its materials, manufacturing techniques, and detail of the vehicle. Before World War II, manufacturers produced simple toys made of materials like cast iron and pressed steel. After the war however, the toy vehicle industry also used materials like Bakelite, diecast, and plastic.
Collect vintage and modern diecast toy vehicles
Diecast toy vehicles are available in a variety of shapes and sizes. Matchbox, Corgi, Dinky, Maisto, and Franklin Mint, are known for producing vintage diecast cars and trucks manufactured before 1970. Vintage Hot Wheels, including Red Line Hot Wheels, were manufactured between 1968 and 1980. You can also find a large selection of contemporary diecast cars and trucks, diecast airplanes, and diecast motorcycles, on eBay Australia. Discover contemporary diecast cars from Hot Wheels manufactured after 1990.
Several contemporary collectable diecast cars feature photo-etched door handles, window frames, wipers, and radiator grilles. Manufacturers of mass-produced items can use the expensive process to copy scaled down patterns onto a thin sheet of metal and then etch parts onto the metal using acid. This process produces more detail than traditional moulds.

Back to top


Pick Up the Hottest Hot Wheels


Pick Up the Hottest Hot Wheels
It was in 1968 that Mattel introduced its Hot Wheels brand of 1:64 scale diecast toy cars and contemporary versions of the 6.4 cm cars regularly hit the market. Instead of attempting to find every Hot Wheels car ever produced, collectors generally keep one eye out for:

Back to top


Maximise Your Matchbox Collection


Maximise Your Matchbox Collection
Fill your shelves with diecast Matchbox cars or diecast Matchbox aircrafts. Matchbox toy vehicles first hit the toy scene in England in 1952, being manufactured by Lesney Products and distributed by the Moko company. However, since its inception, the Matchbox brand has gone through quite a few changes and you can spot many of those changes just by looking at Matchbox packaging. For example, from 1952 to 1959, Matchbox toy boxes read "A Moko Lesney." Through 1982 however, the language changed to read "A Lesney Product" when Lesney filed for bankruptcy and went into receivership. Look for specific models of Matchbox diecast vehicles:
Matchbox Models of Yesteryear (MOY): In 1956, Lesney introduced Matchbox Models of Yesteryear (MOY). These replicas of classic cars from the early 1900s feature opening doors and hoods.

King Size Matchbox cars: Marketed as "collectable," larger 1:43 scale King Size Matchbox diecast cars measure about 8.75cm long.

Superfast (SF) Matchbox cars: The Superfast wheels used on today's Matchbox cars where introduced on the first Superfast (SF) Matchbox cars, featuring a thin axle, in 1969.

Matchbox model kits: In the 1970s Matchbox bought AMT, a plastic model kit manufacturer, and released a series of Matchbox model kits focused on 1:72 scale military vehicles. The line lasted about a decade.

Matchbox Sky Busters: Also in the 1970s, the first Matchbox Sky Busters commercial airplane replicas and a new line featuring Continental Airlines came out in 1992.

Matchbox Challenge Cars (MBCC): In 1996, Tyco released a series of 10,000 Matchbox Challenge Cars (MBCC). When Mattel purchased the Matchbox brand name, it temporarily halted distribution until 1998. You'll discover Matchbox Challenge Cars (MBCC) in shades of gold, with black interiors, clear windows, and blister cards that look different from other Matchbox cars released the same year. While most were released individually, No. 55 and No. 70 were only released in 10-piece starter packs.

Anniversary Matchbox cars: In 1992 and 2002, Matchbox respectively turned 40 years old and 50 years old respectively. The milestones were commemorated with the release of anniversary Matchbox cars.
In the early 1980s, Universal Toys bought the Matchbox brand name and Lesney co-founder, Jack Odell retained some Matchbox tooling rights. He released diecast toys similar to Matchbox under the Lledo brand name, which has its own section on eBay Australia.

Back to top


Value Diecast Toy Vehicles


Value Diecast Toy Vehicles
Certain diecast toy vehicles have a higher market value than others. You can estimate the market value of toy vehicles by searching Completed Listings. The results will tell you the amount other buyers paid for similar items in the past 14 days and will help you set the maximum price you're willing to pay for an item. Expect to pay more for:
Limited Editions (LE) toy vehicles: Limited edition toy vehicles runs have a predetermined number of copies. They are highly collectable as the manufacturer destroys the cast once it produces the final copy of the toy vehicle. Sellers should include information about which vehicle in a run they are selling and the total number of vehicles produced in a run. For example, 124 of 1,000.

Limited production cars: Toy vehicle collectors often seek Treasure Hunt (TH) Hot Wheels, and Matchbox Challenge Cars (MBCC). Johnny Lightning White Lightning diecast cars are also rare and feature a white base, rims, tires, or interior. They make up about 1% of a run and other toy vehicles in the run will not have the same white component.

Out-of-production toy vehicles: Sometimes, toy vehicle manufacturers choose to stop producing an item and later reissue an identical toy vehicle. Collectors often keep an eye out for out-of-production toy cars and trucks.

Retired toy vehicles: A toy vehicle manufacturer can choose to stop making a particular toy vehicle and may reissue it with changes to detail or colour at a later date.

Toy vehicles with papers: Franklin Mint (FM), is one company which specialises in collectable toy vehicles, and often includes papers, like a Certificate of Authenticity, with their diecast creations.
Look for diecast toy vehicles in mint condition
Typically, replicas with all of their original packaging and paperwork sell for more than identical items without packaging. If you plan to resell a diecast toy vehicle, always keep the original packaging intact. The word "mint" indicates that an item has no wear or defects. You may see variations in toy vehicle item listings:
Sellers should describe any damage to the diecast toy vehicle and provide a clear picture of the diecast vehicle in their listings so that you can make an informed purchase. If the condition of the vehicle isn't specified, then ask the seller directly.

Back to top


Care for Your Diecast Toy Vehicle Collection


Care for Your Diecast Toy Vehicle Collection
Store and maintain your diecast cars and trucks, diecast aircraft and diecast motorcycles, properly so that you can share your passion with future generations.
Deter dust: Use a display case to protect your collection from dust and show off prized possessions.

Prevent fading: Keep your diecast toy vehicles out of direct sunlight which can fade colours.

Retain value: If you plan to resell your toy vehicles, keep them in their original packaging.
Use a soft brush, or soft cloth, to clean dirty vehicles. If you need more cleaning power, then add a few drops of a lukewarm water and mild detergent solution to your brush, or cloth. Although you'll want every part of your toy vehicles to look shiny and new, resist the urge to clean decals. You won't be very happy if you rub away their detail.

Back to top


Find Diecast Toy Vehicles on eBay Australia


Find Diecast Toy Vehicles on eBay Australia
Once you know what type of diecast toy vehicle you want, go to the Toys & Hobbies portal, click on Diecast Cars & Trucks, or Diecast Planes, Bikes, Boats , and start shopping for item listings on eBay Australia!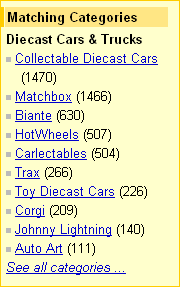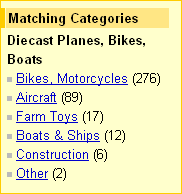 Categories: The Categories list is located on the left hand side of each page and will hep you narrow down item listings by brand or item type. Under Diecast Cars & Trucks, you'll find links for Collectable Diecast Cars, Matchbox, Hot Wheels, Biante, Carlectables, Trax, and more. Under Diecast Planes, Bikes, Boats you'll find links for Bikes, Motorcycles, Aircraft, Farm Toys and more. Once you click a link you will find another categories list that will help you further narrow down your results.

Keyword search: Search eBay Australia listing titles for specific words. For example, if you wanted to find a Peter Brock racing car, you'd type "Brock" (without quotation marks) into the Search box. Click "Search title and description" to expand your results. Visit eBay Australia's Search Tips page for more tips on searching with keywords.
If you can't seem to find exactly what you want, try shopping eBay Stores, tell the eBay Australia Community what you want by creating a post on Want It Now, or save your search on My eBay and eBay Australia will email you when a match becomes available.

Back to top


Buy Diecast Toy Vehicles With Confidence


Buy Diecast Toy Vehicles With Confidence
Before making your purchase, make sure you know exactly what you're buying, research your seller, and understand how eBay Australia and PayPal protect you.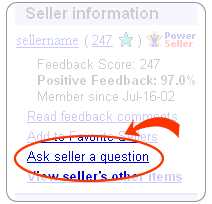 Know your purchase
Carefully read the details in item listings.
Figure delivery costs into your final price. If you spend a lot of money, make sure the seller will insure the item when it ships.

If you want more information, ask by clicking the "Ask seller a question" link under the seller's profile.

Always make sure to complete your transaction on eBay Australia (with a bid, Buy It Now, or Best Offer). Transactions conducted outside of eBay Australia are not covered by eBay Australia protection programs.

Never pay for your eBay Australia item using instant cash wire transfer services through Western Union or MoneyGram. These payment methods are unsafe when paying someone you do not know.
Know your seller
Research your seller so you feel positive and secure about every transaction.
What is the seller's Feedback rating? How many transactions have they completed? What percentage of positive responses do they have?

What do buyers say in their Feedback? Did the seller receive praise?

Most top eBay Australia sellers operate like retail stores and have return policies. Do they offer a money-back guarantee? What are the terms and conditions?
Buyer protection
In the unlikely event that a problem arises during your transaction, eBay Australia and PayPal are there for you.
Pay safely with PayPal: PayPal enables you to pay without the seller ever seeing your bank account or credit card numbers. In fact, PayPal protects buyers 100% against unauthorised payments from their accounts. Plus, with PayPal Buyer Protection, your purchase can be covered up to $1,500.

eBay Australia Security & Resolution Centre: Visit the Security & Resolution Centre to learn how to protect your account and use eBay Australia's quick and efficient resolution tools.

Back to top


Need More Help?


Need More Help?
Visit our help pages or start a thread on one of our Community Discussion Boards - If you have a quick question that needs answering, try posting it on our community Answer Centre - there's bound to be a seasoned eBay Australia veteran with just the information you're looking for!

Back to top


Legal Disclaimer


Legal Disclaimer
Buying Guides are intended merely as a guide or review for members when considering what products or services they may be interested in bidding on or purchasing. eBay does not make, and nothing in these Buying Guides is intended to constitute, any warranties, guarantees, representations or assurances about the accuracy of the information or content contained in these Buying Guides. Furthermore, eBay does not make, and nothing in these Buying Guides is intended to constitute, any warranties, guarantees, representations or assurances about the nature or performance of the products or services appearing in the Buying Guides. Content, trademarks and brands referred to and contained in the third-party links provided are the property of their respective owners, and eBay has no control over and accepts no responsibility for their content. eBay is not affiliated with nor does it endorse the use of any particular product or service.

Back to top


---