eBay Australia's Car Electronics Buying Guide


Play Music with Car Receivers and CD Players


Play Music with Car Receivers and CD Players
When putting together or revamping your car's audio system, start with its music source: the in-dash receiver.
Available from familiar car audio specialists such as Pioneer, Alpine, and Kenwood, in-dash receivers improve the overall sound quality of your system. Most come with a CD player, and many also support the following formats: CD-R, CD-RW, MP3, and WMA. Some in-dash receivers even support the Apple iPod .
Purchase an in-dash receiver with a built-in CD changer or add a CD changer to your existing car stereo system so you don't have to fiddle with controls and CD cases while you drive. Models by Sony and JVC can handle as many as 10 or 12 discs.

Back to top


Pump Up Your Sound System with Car Audio


Pump Up Your Sound System with Car Audio
Maximise the sound potential of your car with new car speakers, a car subwoofer, and a car amplifier. First measure the areas of your car where you want to place your speakers. When you evaluate item listings, make sure each speaker, subwoofer, and amp will fit in your car.
Step up your car speakers
Manufacturers like Pioneer, Sony, Alpine, Kenwood, JL Audio and Clarion deliver a wide range of car speakers, varying in size, price, and power. You can mount them in a variety of places, including the front and/or back of a car, as well as inside car doors.
Full-range car speakers: Various speaker parts, usually a woofer and a tweeter, live in one full-range car speaker unit.

Component car speakers: Component car speakers keep speaker parts separate, providing better sound quality than full-range speakers.
Car amplifiers
Car amplifiers by manufacturers like Alpine, Pioneer, Kenwood and Sony add to the overall volume of your car audio system, driving your speakers without causing distortion. Whether you prefer Beethoven or Beck, car amps also improve music clarity and detail. Place a car amplifier under a seat, inside your trunk, or in the rear of your car.
Subwoofers
Car subwoofers reproduce very low bass frequencies to provide thumping bass sound. You'll need an amplifier to drive your subwoofer and a place to install an 8- to 15-inch (20 to 37.5cm) unit. You can mount it in a trunk enclosure, under a seat, or in a side panel or cargo tray.
Subwoofers produced by companies such as Boss, Sony, JL Audio, Pioneer, and Alpine, are usually round, but you may see some square-shaped units on eBay Australia. The larger the subwoofer, the lower the frequency it will produce.
Purchase your subwoofer individually, as part of a multi-speaker system, or with an enclosure.
Install your car speakers
When you look at item listings, make sure the item you want to purchase comes with its original installation documentation. If you need additional guidance, visit the manufacturer's website. Many companies provide free online installation instructions.
In addition, many in-dash receiver and speaker listings offer a link right in the description to find out whether or not the product will fit your car.
In-dash receiver and car speaker installation is a fairly straightforward process. Consider an installation kit, such as an amp install kit, to help with the more detailed car amplifier and subwoofer installation process.

Back to top


Take Movies on the Road with Mobile Video


Take Movies on the Road with Mobile Video
Transform your vehicle into a mobile theatre system, complete with multi-channel surround sound, to impress your passengers and entertain the kids. Bringing the magic world of movies, satellite TV, and even video games to your car will require:
Either buy a mobile video system with integrated components or purchase one component at a time. Car video systems come in two configurations: front-seat and backseat.
Front-seat car video systems
Front-seat video systems come with a video receiver that fits into a standard dash opening and a motorised and retractable 6.5- to 7-inch LCD monitor. These units offer DVD playback and handle all your music needs, often supporting CDs, MP3s, and satellite radio.
For safety reasons, a front-seat system will not play movies unless you park the car and apply the emergency brake. However, you may use your monitor with a GPS navigation system while you drive.
Backseat car video systems
Use a backseat car video system to entertain passengers any time you drive. They typically include:
Install your car video equipment
In-dash video receivers only require a few more connections than in-dash stereo receivers. Make your extra connections through an easy-to-reach hideaway box.
For the easiest headrest monitor installation, buy mounting brackets that attach to the posts of your front seat headrests. You can also replace your existing headrests with headrests that have pre-installed monitors.
Installing an overhead monitor requires more time and patience. Follow the manufacturer's installation instructions carefully or hire a pro to come out and do it for you.
When you have your monitors in place, connect them directly to your media player. Remember to buy RCA cables and speaker wires so that you have all the components you need handy when you install your car video equipment.

Back to top


Find Car Electronics on eBay Australia


Find Car Electronics on eBay Australia
Once you know what type of car electronics you want, go to the eBay Australia Motors portal, click Car Audio, Video, Electronics, and start searching for item listings on eBay Australia.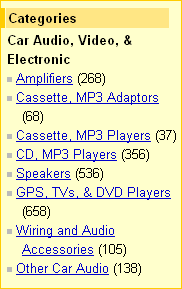 Categories: The Categories list on the left side of each page will help you narrow down your listings by item type. You'll find links for Amplifiers, CD, MP3 Players, Speakers, GPS, TVs & DVD Players, and more. As you dig deeper into the site you'll also be able to narrow down your choice by item type.

Keyword search:Search eBay Australia title listings for specific words. For example, if you wanted to find car speakers, you would type "car speakers" (without quotation marks) into the search box. Click "Search title and description" to expand your results. Visit eBay Australia's Search Tips page for more tips on searching with keywords.
If you can't find exactly what you want, try shopping eBay Stores, tell the eBay Community what you want by creating a post on Want It Now, or save a search on My eBay and eBay will email you when a match becomes available.

Back to top


Buy With Confidence


Buy With Confidence
Before making your purchase, make sure you know exactly what you're buying, research your seller, and understand how eBay Australia and PayPal protect you.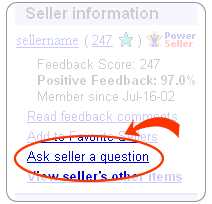 Know your purchase
Carefully read the details in item listings.
Figure delivery costs into your final price. If you spend a lot of money, make sure the seller will insure the item when it ships.

If you want more information, ask by clicking the "Ask seller a question" link under the seller's profile.

Always make sure to complete your transaction on eBay Australia (with a bid, Buy It Now, or Best Offer). Transactions conducted outside of eBay Australia are not covered by eBay Australia protection programs.

Never pay for your eBay Australia item using instant cash wire transfer services through Western Union or MoneyGram. These payment methods are unsafe when paying someone you do not know.
Know your seller
Research your seller so you feel positive and secure about every transaction.
What is the seller's Feedback rating? How many transactions have they completed? What percentage of positive responses do they have?

What do buyers say in their Feedback? Did the seller receive praise?

Most top eBay Australia sellers operate like retail stores and have return policies. Do they offer a money-back guarantee? What are the terms and conditions?
Buyer protection
In the unlikely event that a problem arises during your transaction, eBay Australia and PayPal are there for you.
Pay safely with PayPal: PayPal enables you to pay without the seller ever seeing your bank account or credit card numbers. In fact, PayPal protects buyers 100% against unauthorised payments from their accounts. Plus, with PayPal Buyer Protection, your purchase can be covered up to $1,500.

eBay Australia Security & Resolution Centre: Visit the Security & Resolution Centre to learn how to protect your account and use eBay Australia's quick and efficient resolution tools.

Back to top


Need More Help?


Need More Help?
Visit our help pages or start a thread on one of our Community Discussion Boards - If you have a quick question that needs answering, try posting it on our community Answer Centre - there's bound to be a seasoned eBay Australia veteran with just the information you're looking for!

Back to top


Legal Disclaimer


Legal Disclaimer
Buying Guides are intended merely as a guide or review for members when considering what products or services they may be interested in bidding on or purchasing. eBay does not make, and nothing in these Buying Guides is intended to constitute, any warranties, guarantees, representations or assurances about the accuracy of the information or content contained in these Buying Guides. Furthermore, eBay does not make, and nothing in these Buying Guides is intended to constitute, any warranties, guarantees, representations or assurances about the nature or performance of the products or services appearing in the Buying Guides. eBay is not affiliated with nor does it endorse the use of any particular product or service.

Back to top


---