eBay Australia's Bedding Buying Guide


Purchase the right bedding on eBay Australia for your nighttime sojourn. Getting a good night's sleep is important, and only possible if you have got the right doonas and quilts, pillows, sheets, and mattresses to keep you feeling comfortable all night long. Start shopping for bedding now on eBay Australia!

Get to Know Bedding Basics


Get to Know Bedding Basics
Every bed needs basic bedding, including things like sheets, pillows, blankets, and a decorative cover such as a bedspread, doona, quilt, or quilt cover and a mattress protector. Determine what size bed linens fit your mattress before you start shopping. Standard mattress sizes include:
| | |
| --- | --- |
| Bed Linens | Mattress Size |
| | 92cm x 187cm |
| | 106cm x 203cm |
| | 137cm x 187cm |
| | 153cm x 203cm |
| | 183cm x 203cm |
Discover all-in-one bedding solutions
At the bare minimum you need to dress your bed with sheets. Standard sheet sets include a fitted sheet, a flat sheet, and two standard- or king-sized pillowcases. You'll find a huge selection of sheet sets for single beds, king single beds, double beds, queen beds and king beds on eBay Australia. Sheridan, and Laura Ashley are both popular brands of sheets and sheet sets.
Choose your bed cover
Choose the right comforter, bedspread, doona or quilt, or cover for your bed that matches well with your bedroom décor. Good quality bedspreads and doona or quilts, are made with matelasse, cotton chintz, chenille, or even velvet as these fabrics tend to have a tight weave and thick threads that increase the durability and opulence of the cover.
A doona or quilt cover, can be used to give new life to an old and faded comforter, and is like a big pillowcase for your comforter. Secured at the top with velcro, or button closures, doona or quilt covers are very easy to remove and launder.
Buy extra blankets
For the cold winter months, blankets can add an extra layer of warmth and style to your bedding set. Choose between a fleece blanket, cotton blanket, or even an electric blanket.
Add pizzazz with pillows
Pile pillows on your bed and don't forget to cover them complementary pillowcases. To create interest, consider investing in bolsters (roll neck pillows) and accent (or decorative) pillows as well to make your bed look more luxurious and inviting.
Hide your box spring
Bed skirts or valances hide a bed's box spring and can bring another degree of colour and texture to your bedding set. Make sure you know the dimensions for your mattress - including length, width, and drop measurement, in order to get the right fit. The drop measurement, distance from the floor to the top of the box spring, determines the length of the skirt. A standard drop measurement is about 38 centimetres.
Shop around for bed skirts with higher thread counts that will better conceal your box springs. Bed skirts come in both gathered and pleated, or tailored styles and have two basic designs. One design places the bed skirt between the mattress and box spring and the other design uses snap strips or hook and loop fasteners.


Back to top


Select the Perfect Bed Sheets


Select the Perfect Bed Sheets
High-quality bed sheets may last you up to 15 years. Whether you require king size sheets, queen size sheets, double bed sheets or single bed sheets, look at the thread count and fabric when you buy.
Judge thread count
Thread count, indicated commonly in the number of threads per square inch, determines the quality of a sheet. Generally, sheets that have higher thread counts (around 300 and above) have a durable, lustrous, and soft fabric that gets softer over time. They are also less prone to shrinkage than lower thread count sheets (ie. thread counts less than 120). Low thread count sheets, though less expensive, have a rougher feel and are more likely to wear through.
Select sheet fabric
Each fabric commonly used to make sheets has its own merits.
Combed cotton sheets : Combed cotton sheets undergo a cleaning process to eliminate any impurities and short, less desirable fibres. The process results in a soft, smooth fabric.

Percale sheets: Percale sheets offer a smooth, flat, and closely-woven fabric, finer than muslin and are usually found in sheets with a thread count of 180 to 220. Percale sheets can be found in 100% cotton or 50/50 cotton/polyester blends.

Pima sheets and Supima sheets: Pima sheets and Supima sheets, made from high-quality cotton, are soft and found in bed sheets in the 200 to 300 thread count range.

Egyptian cotton sheets: Egyptian cotton sheets are highly durable, lustrous, and silky, and usually have a thread count above 200. Egyptian cotton is the most highly desired bedding fabric and is made of extra-long fibre staples grown along the Nile River.

Flannel or flanelette sheets: Flannel or flanelette sheets, a wool textile, are very warm and insulating, and may be blended with either a synthetic fabric or cotton.

Muslin sheets: Muslin sheets have a rough and tough feel and are at the low end of the cotton spectrum with a thread count between 128 and 140. They are commonly used in children's character-themed bedding.

Synthetic fabric sheets: Although synthetic fibres like modal, lyocell and polyester have strength and durability, they aren't the most "breathable" fabrics. However they can resist wrinkles, and they wash and dry easily.
The extra-thick dye used for printed sheets can make fabrics feel a bit rough at first, however, they do tend to soften up after only a few washings. Take your sheets out of the dryer immediately to avoid wrinkling and ensure your sheets look as nice as possible.
Buy fitted sheets
When shopping for fitted sheets, consider the pocket depth and elasticity. To find pocket depth, measure from the highest point on the mattress, including the mattress protector and any additional bedding you may use under your sheets, to the bottom edge of the mattress.
Fitted sheets should also have elastic all the way around the sheet. Sheets with elastic only at the head and foot are more likely to slip off the bed.

Back to top


Choose the Right Doonas and Comforter Quilts


Choose the Right Doonas and Comforter Quilts
Choosing the right doona and comforter quilt relies greatly on personal preference. Some people would prefer doonas or quilts that provide maximum warmth while sleeping. Others will prefer a quilt that is warm but not too heavy while sleeping. You'll find a range of doonas and quilts on eBay Australia made of various materials from pure wool, to down, to polyester filled.
Fill power refers to the space that down filling occupies. Down comforters with higher fill power measurements are fluffier, generally last longer, and provide more warmth at lighter weights.
| | |
| --- | --- |
| Fill power | Quality |
| 800+ | Superb |
| 700+ | Excellent |
| 600+ | Good |
The purity of the contents of your comforter quilt determines its price, comfort, ease of care, and lifespan. For example, down comforters with more pure fills have a higher price, but also have less odours, greater comfort, easier care instructions, and last longer.
If you don't mind a heavier weight while sleeping, then consider buying a wool quilt. They are fairly thick, and will keep you very warm at night.

Back to top


Pick Out Pillows and Mattress Protectors


Pick Out Pillows and Mattress Protectors
Increase your comfort with the right pillows and a mattress protector.
Pillow talk
Pillows help you get a sound night's sleep so that you can wake up feeling refreshed and ready to go in the morning. Some bedding sets provide pillowcases and pillow shams as well.
Decorative bed pillows used on top of the bed come in two main sizes: standard pillows and Euro pillows. A Euro pillow generally provides a more structured and boxy look for your bed.
Consider your comfort when purchasing your pillows.
Pillows for back sleepers: Flatter pillows that provide firm support are better for back sleepers.

Pillows for stomach sleepers: If you regularly sleep on your stomach, choose pillows with a gently sloping surface and tapered ends.

Pillows for side sleepers: Side sleepers require pillows that have a raised and even sleeping surface, which provides improved neck alignment.
Filling determines the firmness of your pillow. Firmer pillows that keep their shape throughout the night are made of foam. Foam pillows generally tend to break down after two years or so.
Down pillows offer a good degree of firmness, are flexible, and can last up to 10 years. You can also mold these pliable pillows to fit your mood.
Consult the manufacturer's cleaning instructions before washing or dry cleaning your pillows.
Sleep better with quality mattress protectors
Place a mattress protector on your bed to keep your mattress protected, improve back support and comfort, and to get a better night's sleep. Mattress protectors often offer a degree of allergy relief because they use hypo-allergenic materials that naturally resist dust mites and bacteria. Cotton mattress protectors are thin, quilted, naturally hypoallergenic, and washable. A good wool mattress will keep you cooler in summer and warmer in winter.
When it comes time to rotate your mattress, simply rotate your mattress protector instead.

Back to top


Select Bedding for the Kids


Select Bedding for the Kids
Make sure the bedding you choose fits your childrens' bedroom decor and style.
Make bedtime fun
Children's bedding brings your kids' favourite cartoon and TV characters into the bedroom. You'll find beloved characters such as Barbie, Hi 5, Spiderman, Hilary Duff, Hello Kitty, Yu Gi Oh, Wiggles, Disney, The Simpsons and more on eBay Australia.
Easy-to-install canopies and netting can also add an air of whimsy or the feel of the tropics to your child's bedroom. They are available in a range of colours and feature a variety of characters. If your little one is begging to have a princess themed room, then a canopy or decorative netting is a great way to finish off the effect.

Back to top


Find Bedding on eBay Australia


Find Bedding on eBay Australia
Now that you know what to buy, narrowing down item listings to the bedding you want shouldn't take much time. From the Home & Lifestyle portal, click on Bedding, and start searching for items on eBay Australia.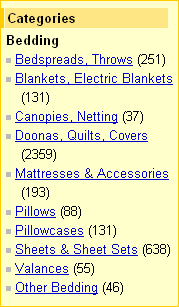 Keyword search: Search eBay Australia listing titles for specific words. For example, if you want to find Sheridan bed sheets, type "sheridan sheet" (without quotation marks) into the Search box. Click "Search title and description" to expand your results. Visit eBay Australia's Search Tips page for more tips on searching with keywords.
If you can't find exactly what you want, try shopping eBay Stores, tell the eBay Australia Community what you want by creating a post on Want It Now, or save a search on My eBay and eBay Australia will email you when a match becomes available.

Back to top


Buy Bedding with Confidence


Buy Bedding with Confidence
Before making your purchase, make sure you know exactly what you're buying, research your seller, and understand how eBay Australia and PayPal protect you.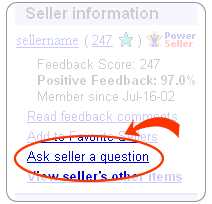 Know your purchase
Carefully read the details in item listings.
Figure delivery costs into your final price. If you spend a lot of money, make sure the seller will insure the item when it ships.

If you want more information, ask by clicking the "Ask seller a question" link under the seller's profile.

Always make sure to complete your transaction on eBay Australia (with a bid, Buy It Now, or Best Offer). Transactions conducted outside of eBay Australia are not covered by eBay Australia protection programs.

Never pay for your eBay Australia item using instant cash wire transfer services through Western Union or MoneyGram. These payment methods are unsafe when paying someone you do not know.
Know your seller
Research your seller so you feel positive and secure about every transaction.
What is the seller's Feedback rating? How many transactions have they completed? What percentage of positive responses do they have?

What do buyers say in their Feedback? Did the seller receive praise?

Most top eBay Australia sellers operate like retail stores and have return policies. Do they offer a money-back guarantee? What are the terms and conditions?
Buyer protection
In the unlikely event that a problem arises during your transaction, eBay Australia and PayPal are there for you.
Pay safely with PayPal: PayPal enables you to pay without the seller ever seeing your bank account or credit card numbers. In fact, PayPal protects buyers 100% against unauthorised payments from their accounts. Plus, with PayPal Buyer Protection, your purchase can be covered up to $1,500.

eBay Australia Security & Resolution Centre: Visit the Security & Resolution Centre to learn how to protect your account and use eBay Australia's quick and efficient resolution tools.

Back to top


Need More Help?


Need More Help?
Visit our help pages or start a thread on one of our Community Discussion Boards - If you have a quick question that needs answering, try posting it on our community Answer Centre - there's bound to be a seasoned eBay Australia veteran with just the information you're looking for!

Back to top


Legal Disclaimer


Legal Disclaimer
Buying Guides are intended merely as a guide or review for members when considering what products or services they may be interested in bidding on or purchasing. eBay does not make, and nothing in these Buying Guides is intended to constitute, any warranties, guarantees, representations or assurances about the accuracy of the information or content contained in these Buying Guides. Furthermore, eBay does not make, and nothing in these Buying Guides is intended to constitute, any warranties, guarantees, representations or assurances about the nature or performance of the products or services appearing in the Buying Guides. Content, trademarks and brands referred to and contained in the third-party links provided are the property of their respective owners, and eBay has no control over and accepts no responsibility for their content. eBay is not affiliated with nor does it endorse the use of any particular product or service.

Back to top


---