eBay Australia's Barbie Dolls Buying Guide


One of the most popular doll of all time, Barbie is well loved by little girls and doll collectors around the world. Whether you are buying a gift for that special child or adding to your own Barbie collection, you will find an unrivalled variety of Barbie dolls and accessories on eBay Australia. Start shopping for Barbie dolls on eBay Australia now!

Discover the History of Barbie Dolls


Discover the History of Barbie Dolls
Over the years, Barbie dolls have gone through a lot of changes. From teen model to fashion maven to modern working woman—and ultimately, a worldwide collectible obsession.

The first Barbie doll
The Barbie doll was first developed by Ruth Handler when she realised that her daughter preferred to play with paper dolls of grown ups rather than paper dolls of children. While visiting Germany, Handler bought a Lilli doll and presented it to her daughter. She then bought the rights to distribute Lilli dolls in the U.S. and at the New York's annual toy festival in 1959, Barbie was born.
The first Barbie doll had a ponytail and a striped black and white bathing suit. Barbie made her first appearance as a "teenage fashion model," although her now famous proportions were not very teenage.
Barbie as fashion plate
Barbie's wardrobe has changed with the fashion trends over the years. Barbie wore fashions like Fashion Luncheon and Silver Flame. She joined the British Invasion around the time she acquired the Twist 'N Turn waist.
Barbie's trendy fashion flair was acknowledged when she modeled the full range of '70s styles, including daring disco glam, the granny dress and a "California Girl" suntan. She underwent a face sculpting change with brighter eyes and a wider smile in 1977 and Superstar Barbie was launched.
In the '90s, some of the world's most famous designers such as Vera Wang, Christian Dior, Nolan Miller and Bob Mackie started designing fashions specially for Barbie. A makeover by Bob Mackie rejuvenated Barbie with a youthful lift to the face, more prominent lips and updated makeup in Neptune Fantasy Barbie.
Barbie collections
Barbie's original fans had grown up by the '80s. Now in their 20s and 30s, these fond fans still continued to collect Barbie. To meet the needs of her growing adult fan base, Mattel released Blue Rhapsody Barbie in 1986. This was Mattel's first porcelain Barbie and marked the launch of a collector's line.
For many, Barbie doll collecting has become a full time passion. From vintage Barbie dolls and Limited Edition or Collector Edition Barbie dolls to Barbie fashion and Barbie furniture, one thing is certain: Barbie collectors will never run out of options, inspiration or imagination to fuel that passion on eBay Australia.

Back to top


Talk About Barbie Dolls: Common Terms


Talk About Barbie Dolls: Common Terms
Over the years Barbie collectors have developed their own vocabulary to define their passion.
A/O: All original Barbie dolls come complete with everything it came with originally.

Book value: Price of a particular Barbie doll.

C grading system: A system used to rate the condition of your Barbie doll. The grade goes from C-1 through to C-10, with C-1 being very poor and C-10 being NRFB and in pristine condition.

Collector edition : Collector edition Barbie dolls were intended for collection. More than 35,000 collector edition Barbie dolls were manufactured.

HTF: Hard-to-find Barbie dolls.

Limited edition: Limited Edition Barbie dolls often have special features that make them unique and are produced in quantities of less than 35,000.

MIB: Mint in box. MIB dolls come in the original box and are in factory condition.

MIP: Mint in package Barbie dolls. Similar to MIB, MIP dolls come in the original box in factory condition, and with all accessories preserved in original packaging.

Mint & complete: The Barbie doll is in excellent shape and has all accessories.

NRFB: Never removed from box.

Timeless Treasures : Barbie dolls that were modelled after celebrities such as Lucille Ball, Elvis and Elizabeth Taylor.

Back to top


Collect Barbie Dolls & Accessories


Collect Barbie Dolls & Accessories
In 2004 Mattel created a "tier structure" to identify Barbie dolls that will be collectible.
While there is definitely something to be said for dolls that have not been removed from their boxes, Barbie was made to be enjoyed. Many people hope to turn a profit by collecting Barbie dolls, but it is more important that you have fun. Buy the Barbie dolls and accessories that you like. If you want to take them out and change their outfit or comb their hair, that's fine. If you want to leave them in the box, that's fine too.

Back to top


Find Barbie Dolls on eBay Australia


Find Barbie Dolls on eBay Australia
Once you know what type of Barbie doll you want, go to the Dolls and Bears portal. Click Barbie and start searching for item listings on eBay Australia.
Keyword search: Search eBay Australia listing titles for specific words. For example, if you want to find a Silkstone Barbie, type "silkstone" (without quotation marks) into the Search box. Click "Search title and description" to expand your results. Visit eBay Australia's Search Tips page for more tips on searching with keywords.
If you can't find exactly what you want, try shopping eBay Stores, tell the eBay Australia Community what you want by creating a post on Want It Now, or save a search on My eBay and eBay Australia will email you when a match becomes available.

Back to top


Buy Barbie Dolls with Confidence


Buy Barbie Dolls with Confidence
Before making your purchase, make sure you know exactly what you're buying, research your seller, and understand how eBay Australia and PayPal protect you.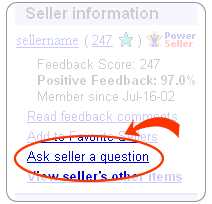 Know your purchase
Carefully read the details in item listings.
Figure delivery costs into your final price. If you spend a lot of money, make sure the seller will insure the item when it ships.

If you want more information, ask by clicking the "Ask seller a question" link under the seller's profile.

Always make sure to complete your transaction on eBay Australia (with a bid, Buy It Now, or Best Offer). Transactions conducted outside of eBay Australia are not covered by eBay Australia protection programs.

Never pay for your eBay Australia item using instant cash wire transfer services through Western Union or MoneyGram. These payment methods are unsafe when paying someone you do not know.
Know your seller
Research your seller so you feel positive and secure about every transaction.
What is the seller's Feedback rating? How many transactions have they completed? What percentage of positive responses do they have?

What do buyers say in their Feedback? Did the seller receive praise?

Most top eBay Australia sellers operate like retail stores and have return policies. Do they offer a money-back guarantee? What are the terms and conditions?
Buyer protection
In the unlikely event that a problem arises during your transaction, eBay Australia and PayPal are there for you.
Pay safely with PayPal: PayPal enables you to pay without the seller ever seeing your bank account or credit card numbers. In fact, PayPal protects buyers 100% against unauthorised payments from their accounts. Plus, with PayPal Buyer Protection, your purchase can be covered up to $1,500.

eBay Australia Security & Resolution Centre: Visit the Security & Resolution Centre to learn how to protect your account and use eBay Australia's quick and efficient resolution tools.

Back to top


Need More Help?


Need More Help?
Visit our help pages or start a thread on one of our Community Discussion Boards - If you have a quick question that needs answering, try posting it on our community Answer Centre - there's bound to be a seasoned eBay Australia veteran with just the information you're looking for!

Back to top


Legal Disclaimer


Legal Disclaimer
Buying Guides are intended merely as a guide or review for members when considering what products or services they may be interested in bidding on or purchasing. eBay does not make, and nothing in these Buying Guides is intended to constitute, any warranties, guarantees, representations or assurances about the accuracy of the information or content contained in these Buying Guides. Furthermore, eBay does not make, and nothing in these Buying Guides is intended to constitute, any warranties, guarantees, representations or assurances about the nature or performance of the products or services appearing in the Buying Guides. Content, trademarks and brands referred to and contained in the third-party links provided are the property of their respective owners, and eBay has no control over and accepts no responsibility for their content. eBay is not affiliated with nor does it endorse the use of any particular product or service.

Back to top


---