eBay Australia's Baby Nursery Furniture, Bedding & Décor Buying Guide


Create a comfortable and safe environment to welcome home a new baby by selecting the right nursery furniture, nursery bedding, and nursery decor on eBay Australia.

Always check the safe use information provided by the manufacturer of baby bed products and consult your paediatrician with any questions.

Start shopping for baby nursery furniture, bedding and decor now on eBay Australia!

Check Baby Product and Toy Safety Information


Check Baby Product and Toy Safety Information
It is prudent when buying items for your baby or child to ensure that the product meets current safety standards. The Australian Competition & Consumer Commission (ACCC) has published safety information about baby products that you can read for important safety advice. Before buying, check if the product you are intending to purchase is on the ACCC ban list or recalled items list.

Back to top


Select a Baby Cot or Bassinette


Select a Baby Cot or Bassinette
As your baby will spend a great deal of time in his or her nursery during the first few years, make sure you choose a baby cot, bassinette or toddler bed carefully. You'll find many different styles, made from a variety of materials, and offered in a huge selection of colours and finishes.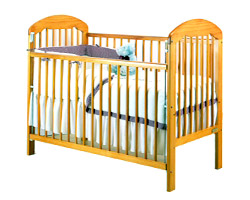 Baby Cots and Bassinettes
Consider the following options to determine which cot, or bassinette will best suit your family's needs over time.
Baby bassinettes: Enjoy the convenience of a bassinette (or Moses basket), which you'll move from place to place for the first three or four months of your baby's life. Most bassinettes feature a hood and an oval sleep area.

Baby cradles: Rock your baby to sleep by placing a cradle (a small bed) near your bed for the first few months.

Standard cots: Standard cots may have one or two drop sides for placing baby inside. Get double drop sides for more versatility. The release mechanism for the drop sides may be metal rods, trigger releases, or knee releases. Find some popular cots by BabyCo, Boori and others.

Portable cots: Add a foldable portable cot (or porta cot) to your nursery list to make travelling with your baby easier.

Canopy cots: Make a fashion statement in your nursery with a canopy cot equipped with posts and a frame for securing a fabric canopy.
Whether you get a standard or portable cot for your nursery, you'll also need to equip the cot with a standard mattress. Many options are available, including both foam mattress and innerspring mattress. For maximum safety, however, be sure to select a firm mattress.
Toddler beds
Transition your child from the cot to a bed with a toddler bed. Toddler beds are set lower to the ground, use a standard size cot mattress, and can be found in fun styles including fire truck beds, princess beds, and the ever popular race car bed.

Back to top


Get Essential Nursery Furniture


Get Essential Nursery Furniture
eBay Australia's large selection of nursery furniture includes all of the most popular brands, including Fisher Price, BabyCo, Boori, Ikea, Valco, Steelcraft and more.

Back to top


Decorate With Nursery Bedding & Accessories


Decorate With Nursery Bedding & Accessories
Set your baby nursery up with some special nursery bedding and nursery décor for your baby.
Cot bedding
Shop eBay Australia for thematic baby bedding sets—such as Winnie the Pooh, Peter Rabbit, Hello Kitty, Treehouse, teddy bears, princess, and many more—or decorate according to your taste. Cot bedding fits most standard size cots, cradles, and toddler beds.
Cot sheets: Fitted sheets should fit snugly around the mattress of the cot to keep baby safe.

Cot bumpers: Padded bumpers tie onto the corners or the cot, cradle, portable cot, or bassinette and should cover the entire inside perimeter of the cot.

Cradle ruffles: Add a finishing touch to your nursery with a cradle ruffle.
To get coordinated nursery bedding, look for collections or cot bedding sets designed for a cot, bassinette, or cradle. Sets typically include a baby quilt, comforter, bumpers, sheets, and pillow cases, depending on the intended use.
Decorative accessories
Shop on eBay Australia for a huge variety of other decorative accessories to complete your nursery.

Back to top


Find Baby Nursery Furniture, Bedding & Decor on eBay Australia


Find Baby Nursery Furniture, Bedding & Decor on eBay Australia
Once you know what type of nursery items you want, go to the Baby & Maternity portal, click Bedding, Furniture or Nursery Décor, and start searching for item listings on eBay Australia.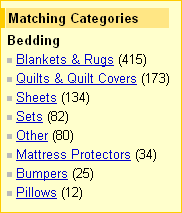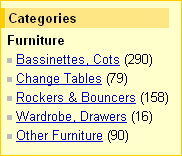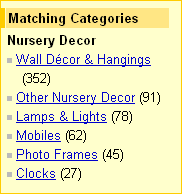 Keyword search: Search eBay Australia listing titles for specific words. For example, if you want to find a portable cot type "portable cot" (without quotation marks) into the Search box. Click "Search title and description" to expand your results. Visit eBay Australia's Search Tips page for more tips on searching with keywords.
If you can't find exactly what you want, try shopping eBay Stores, tell the eBay Australia Community what you want by creating a post on Want It Now, or save a search on My eBay and eBay Australia will email you when a match becomes available.

Back to top


Buy with Confidence


Buy with Confidence
Before making your purchase, make sure you know exactly what you're buying, research your seller, and understand how eBay Australia and PayPal protect you.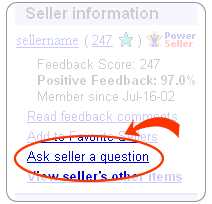 Know your purchase
Carefully read the details in item listings.
Figure delivery costs into your final price. If you spend a lot of money, make sure the seller will insure the item when it ships.

If you want more information, ask by clicking the "Ask seller a question" link under the seller's profile.

Always make sure to complete your transaction on eBay Australia (with a bid, Buy It Now, or Best Offer). Transactions conducted outside of eBay Australia are not covered by eBay Australia protection programs.

Never pay for your eBay Australia item using instant cash wire transfer services through Western Union or MoneyGram. These payment methods are unsafe when paying someone you do not know.
Know your seller
Research your seller so you feel positive and secure about every transaction.
What is the seller's Feedback rating? How many transactions have they completed? What percentage of positive responses do they have?

What do buyers say in their Feedback? Did the seller receive praise?

Most top eBay Australia sellers operate like retail stores and have return policies. Do they offer a money-back guarantee? What are the terms and conditions?
Buyer protection
In the unlikely event that a problem arises during your transaction, eBay Australia and PayPal are there for you.
Pay safely with PayPal: PayPal enables you to pay without the seller ever seeing your bank account or credit card numbers. In fact, PayPal protects buyers 100% against unauthorised payments from their accounts. Plus, with PayPal Buyer Protection, your purchase can be covered up to $1,500.

eBay Australia Security & Resolution Centre: Visit the Security & Resolution Centre to learn how to protect your account and use eBay Australia's quick and efficient resolution tools.

Back to top


Need More Help?


Need More Help?
Visit our help pages or start a thread on one of our Community Discussion Boards - If you have a quick question that needs answering, try posting it on our community Answer Centre - there's bound to be a seasoned eBay Australia veteran with just the information you're looking for!

Back to top


Legal Disclaimer


Legal Disclaimer
Buying Guides are intended merely as a guide or review for members when considering what products or services they may be interested in bidding on or purchasing. eBay does not make, and nothing in these Buying Guides is intended to constitute, any warranties, guarantees, representations or assurances about the accuracy of the information or content contained in these Buying Guides. Furthermore, eBay does not make, and nothing in these Buying Guides is intended to constitute, any warranties, guarantees, representations or assurances about the nature or performance of the products or services appearing in the Buying Guides. Content, trademarks and brands referred to and contained in the third-party links provided are the property of their respective owners, and eBay has no control over and accepts no responsibility for their content. eBay is not affiliated with nor does it endorse the use of any particular product or service.

Back to top


---