eBay Australia's Antique Furniture Buying Guide


Nothing adds style and value to your home like a fine antique, especially a carefully selected piece of furniture that's both functional and beautiful. Choosing the perfect antique cabinet, antique table, or antique dressing table to accent your home is easy and rewarding when you take advantage of eBay Australia's impressive selection of vintage antique furniture. Start shopping for antique furniture on eBay Australia now!

Discover Antique Furniture


Discover Antique Furniture
The first thing you need to do before purchasing any antique furniture is to consider how the pieces will match the current décor of your home. If your home has a minimalist design, adding an ornate Victorian object will look out of place. You will also need to think about what your style is and what design periods can help achieve the look that you are after. Then have fun mixing and matching your favourite styles.
When choosing antique furniture, go for those that are functional as well as attractive, such as chairs, cabinets, desks, and dressing tables. In addition, incorporate antiques throughout your home. You can enhance almost any living space with a piece of artisan furniture from an elaborately gilded mirror in the foyer to a sturdy coffee table in the den to a hand-planed bench in the kitchen. Reproduction furniture is also available if you like the "antique look" but do not want to fork out too much money. True antique furniture collectors, however, shun reproduction pieces for authentic period pieces from specific popular eras.
Explore your antique furniture options
You can find antique furniture of every style and aesthetic on eBay Australia, from stately Gothic headboards to modernist Eames chairs. The real fun is in narrowing down what you like and what will work best in your home.
Start by browsing eBay Australia's entire antique furniture category, which is organised by object and style, to get an idea of what you like. When your own tastes and sense of style start to develop, you will probably discover items that you haven't ever considered before. A few ideas to start with:
Some other types of items to consider in your new favourite old style include antique benches, antique bookcases, antique chaises, antique cabinets, antique sideboards, and antique stands.

Back to top


Identify Antique Furniture & Reproductions


Identify Antique Furniture & Reproductions
True antique hunters go to a lot of effort in their search for beautifully preserved objects d'art. However, the history and authenticity of a piece is not that important to most other home decorators who prefer to opt for quality reproductions that are more affordable. It is up to you which approach you prefer. The challenge is to make an educated decision based on what's important to you.
There are many ways to determine if a piece of antique furniture is a true piece of history or a clever reproduction.
Signs of age: Read the seller description carefully. Wood should show signs of warping, cracking and fading as it shrinks over time. Also keep a look out for slightly ragged edges; this is a sign of the old-fashioned, pre-motorised handsaw. Mirror glass should be very thin and slightly warped.

Imperfections: Look carefully at the images on the listing and try to determine if the piece's boards are of varying widths. Uniform board widths are a fairly modern invention.
As always, it's important to get all the facts. Be sure to check with the seller if you have any questions about a specific piece. Most antique furniture sellers should be more than happy to provide you with additional details or photos of the piece if needed to help you make an informed decision.

Back to top


Research Antique Furniture


Research Antique Furniture
Antique furniture is a wide-ranging subject. Even if you are only focusing on one aspect of it, a lot of research is required in order to become knowledgeable.
Establish value: Many collectors prefer specific eras, styles, and makers, while others have more eclectic tastes. In either case, an authentic piece's value is most influenced by its condition, rarity, and history.

Get an expert opinion: It is more likely for a trained eye to find an undervalued treasure, also know as a clever masquerade, than a novice. Keep up to date about the latest news and trends in the antiques market by checking out important trade publications.

Consider practical matters: Be sure to consider the size and weight of each antique furniture piece you are thinking of purchasing. It can be very expensive to ship furniture so look for eBay Australia sellers in your region to reduce postage costs. Also, look for sellers who use blanket wrap shipping services.

Back to top


Find Antique Furniture on eBay Australia


Find Antique Furniture on eBay Australia
Once you know what type of antique furniture you want, go to the Antiques portal, click Furniture, and start searching for item listings on eBay Australia.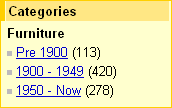 Categories: Categories list on the left side of each page will help you narrow down your listings by item type. You'll find links for Pre 1900, 1900 – 1949, and 1950 – now.

Keyword search: Search eBay Australia listing titles for specific words. For example, if you want to find a Victorian-era table, type "Victorian table" (without quotation marks) into the Search box. Click "Search title and description" to expand your results. Visit eBay Australia's Search Tips page for more tips on searching with keywords.
If you can't find exactly what you want, try shopping eBay Stores, tell the eBay Australia Community what you want by creating a post on Want It Now, or save a search on My eBay and eBay Australia will email you when a match becomes available

Back to top


Buy Antique Furniture With Confidence


Buy Antique Furniture With Confidence
Before making your purchase, make sure you know exactly what you're buying, research your seller, and understand how eBay Australia and PayPal protect you.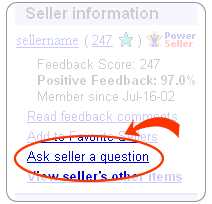 Know your purchase
Carefully read the details in item listings.
Figure delivery costs into your final price. If you spend a lot of money, make sure the seller will insure the item when it ships.

If you want more information, ask by clicking the "Ask seller a question" link under the seller's profile.

Always make sure to complete your transaction on eBay Australia (with a bid, Buy It Now, or Best Offer). Transactions conducted outside of eBay Australia are not covered by eBay Australia protection programs.

Never pay for your eBay Australia item using instant cash wire transfer services through Western Union or MoneyGram. These payment methods are unsafe when paying someone you do not know.
Know your seller
Research your seller so you feel positive and secure about every transaction.
What is the seller's Feedback rating? How many transactions have they completed? What percentage of positive responses do they have?

What do buyers say in their Feedback? Did the seller receive praise?

Most top eBay Australia sellers operate like retail stores and have return policies. Do they offer a money-back guarantee? What are the terms and conditions?
Buyer protection
In the unlikely event that a problem arises during your transaction, eBay Australia and PayPal are there for you.
Pay safely with PayPal: PayPal enables you to pay without the seller ever seeing your bank account or credit card numbers. In fact, PayPal protects buyers 100% against unauthorised payments from their accounts. Plus, with PayPal Buyer Protection, your purchase can be covered up to $1,500.

eBay Australia Security & Resolution Centre: Visit the Security & Resolution Centre to learn how to protect your account and use eBay Australia's quick and efficient resolution tools.

Back to top


Need More Help?


Need More Help?
Visit our help pages or start a thread on one of our Community Discussion Boards - If you have a quick question that needs answering, try posting it on our community Answer Centre - there's bound to be a seasoned eBay Australia veteran with just the information you're looking for!

Back to top


Legal Disclaimer


Legal Disclaimer
Buying Guides are intended merely as a guide or review for members when considering what products or services they may be interested in bidding on or purchasing. eBay does not make, and nothing in these Buying Guides is intended to constitute, any warranties, guarantees, representations or assurances about the accuracy of the information or content contained in these Buying Guides. Furthermore, eBay does not make, and nothing in these Buying Guides is intended to constitute, any warranties, guarantees, representations or assurances about the nature or performance of the products or services appearing in the Buying Guides. eBay is not affiliated with nor does it endorse the use of any particular product or service.

Back to top


---